Climate Action
As part of the global community, we have a responsibility to act on climate. This means drastically reducing emissions across our value chain and aligning our efforts with global climate goals.
Our Climate Strategy and Goals
The effects of climate change are being felt throughout the world. We're taking action and collaborating to enable positive change through the following goals:
RE100: New Balance will source 100% renewable electricity for owned operations by 2025.
Business Ambition for 1.5°C: New Balance joined the Business Ambition for 1.5°C in 2021. We're setting new science based targets in line with a 1.5°C pathway across our Scope 1, 2 and 3 emissions. We will submit our targets to the Science Based Target Initiative for approval in 2022. Knowing there is no time to waste, we're accelerating our actions in this space while we complete the goal setting process.
Our climate strategy focuses on six urgent and holistic actions where we can influence meaningful change:
Energy Efficiency and Renewable Energy: The pathway to net zero starts with energy. We are working within our own operations and across our supply chain to use less energy, electrify processes and shift toward renewables.
Materials: Everything we make has an impact. Our products—and the materials that go into them—are processed with energy, water and chemicals in factories around the world. Raw materials like polyester and leather represent a significant portion of our environmental footprint, so we are prioritizing materials with lower impacts and finding ways to use less.
Longevity and Circularity: We are challenging ourselves to break cycles of consumption that end at the landfill by making products that last longer, extending product use through repair and repurposing products at their end of life.
Advocacy: We're using our position as a global brand to promote broader climate action beyond our walls by engaging governments to enact better climate policy, supporting advocacy groups and building climate awareness and action among our consumers.
Land Use: Land use plays a central role in addressing climate change, so we're working to eliminate deforestation throughout our supply chain and explore the role of regenerative agriculture in our materials.
Community Resilience: Climate impacts are already being felt. Our efforts toward women's empowerment and education in our supply chain are critical tools for building community resilience and enabling populations to better adapt to challenges.
In 2019, our baseline emissions year, our Scope 1 and 2 emissions were 15,467 MTCO2e, accounting for less than 2% of our total footprint. Almost our entire footprint is Scope 3, which was 1,094,283 MTCO2e.
While relatively small compared to our total footprint, Scope 1 and 2 emissions are still important because they represent our owned operations, and our behavior in our own factories allows us to demonstrate leadership when we approach our suppliers to do the same.
In 2020, our Scope 1 and 2 emissions decreased by 24% to 11,804 MTCO2e. This was achieved partially by increasing our renewable electricity use, but 2020 emissions were also artificially low across the board because of pandemic-related closures. Of the 24% reduction, we attribute approximately 7% to increased renewable electricity and 17% to widespread COVID-19 restrictions and facility closures. In 2021, Scope 1 and 2 emissions decreased another 14.8% to 10,053 MTCO2e as we continued to ramp up renewable energy procurement and implemented energy conservation measures.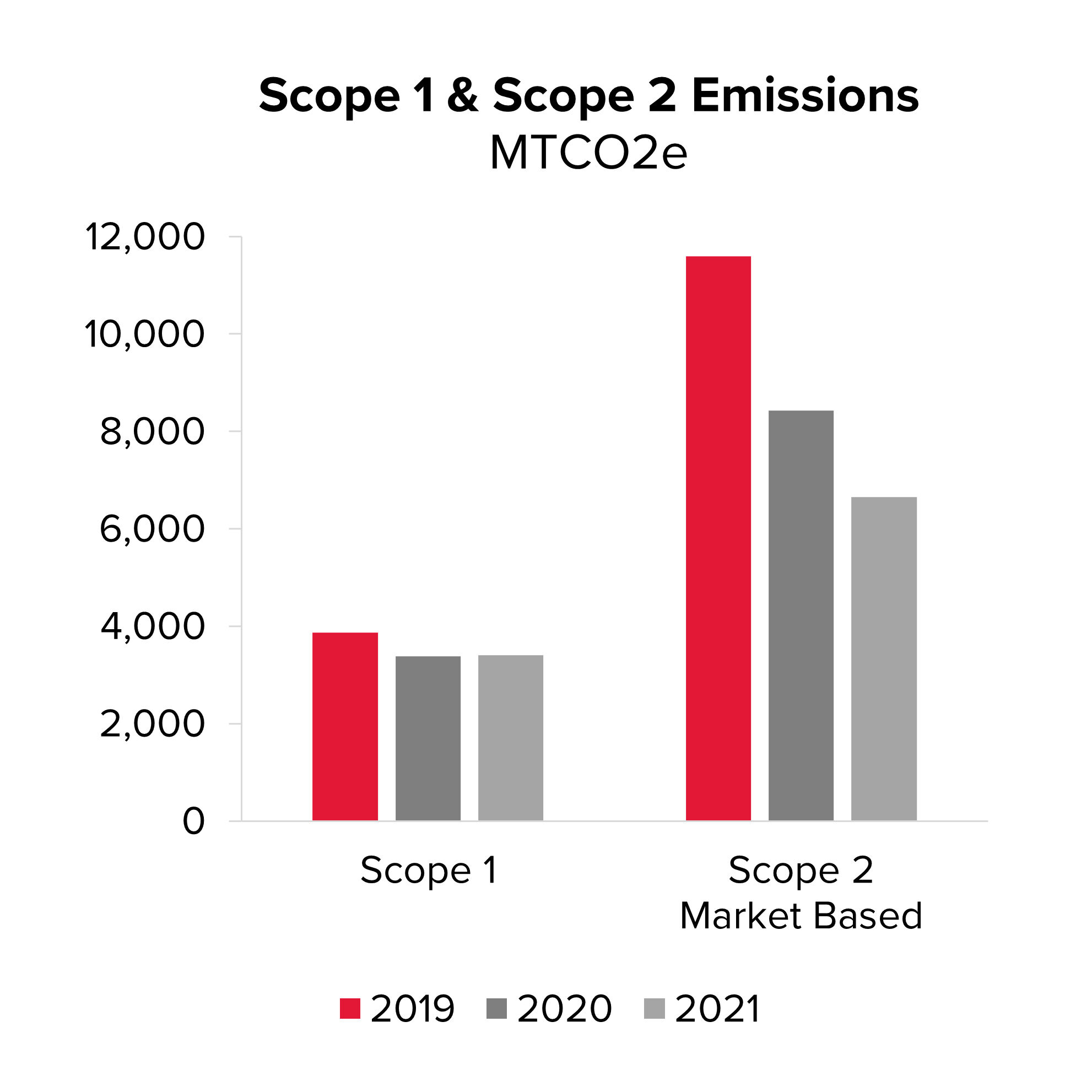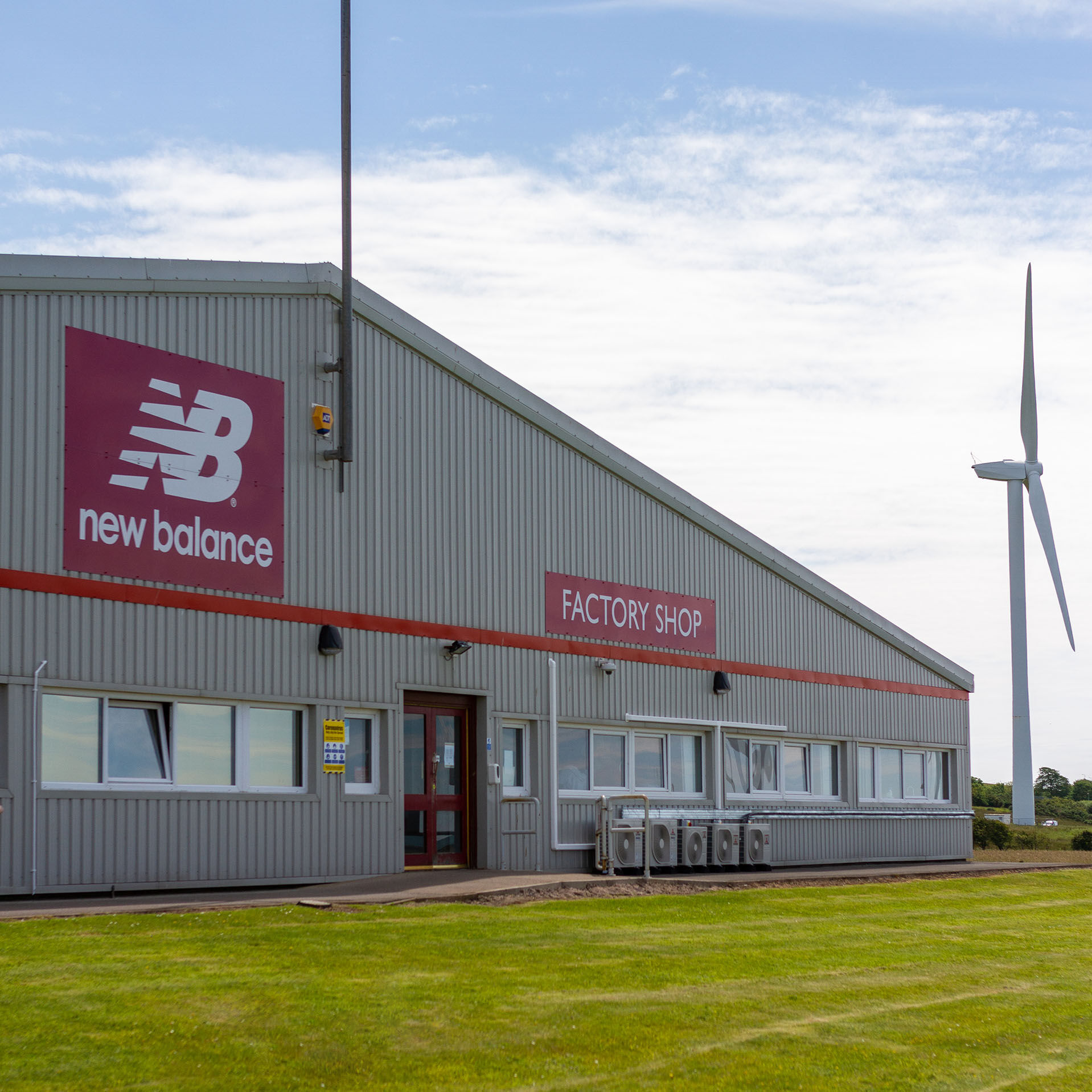 Corporate Renewables
60% of our electricity was sourced as renewable in 2020.
New Balance's global electricity consumption was approximately 55,000 MWh in 2020; 60% was sourced from renewables, up from approximately 20% in 2017. Within that 60% coverage, we source renewable electricity and buy Green-e certified Renewable Energy Certificates (RECs) and Guarantees of Origin (GOs) to cover all U.S., U.K., and EMEA offices, distribution centers, owned retail stores and our Made footwear factories.
"New Balance has always believed that making things matters, but how they are made matters even more. By taking action across our own global operations, especially in our owned factories, we can demonstrate clear leadership as we pursue wider adoption of renewables and other measures across our supply chain and industry," says Joe Preston, New Balance president and CEO.
Flimby (U.K.)
Rooftop solar provides approximately 30% of the electricity at our Flimby, U.K. factory. We are currently contracting for wind turbine installation that will generate enough energy to meet 100% of the factory demand on site.
Maine Consortium (U.S.)
Through Maine's Net Energy Billing program, New Balance joined a consortium of public and private buyers to support four solar projects located in the state of Maine. These projects are in various stages of development but are expected to be online in 2022 and early 2023. We have contracted renewable generation that represents roughly 70% of New Balance's current electricity consumption at our Maine factories.
Scope 3 emissions account for nearly 99% of our total climate footprint. Our biggest Scope 3 impacts are related to the energy used across our Tier 1 and Tier 2 supply chain, the materials we use to make products and the transportation of those products around the world.
Purchased Goods and Services accounted for 73.6% of our Scope 3 emissions in 2021, totaling 852,091 MTCO2e. Among materials, our climate impacts are heavily driven by soles, polyester and leather, which is why these materials are at the center of our preferred materials and product sustainability strategy.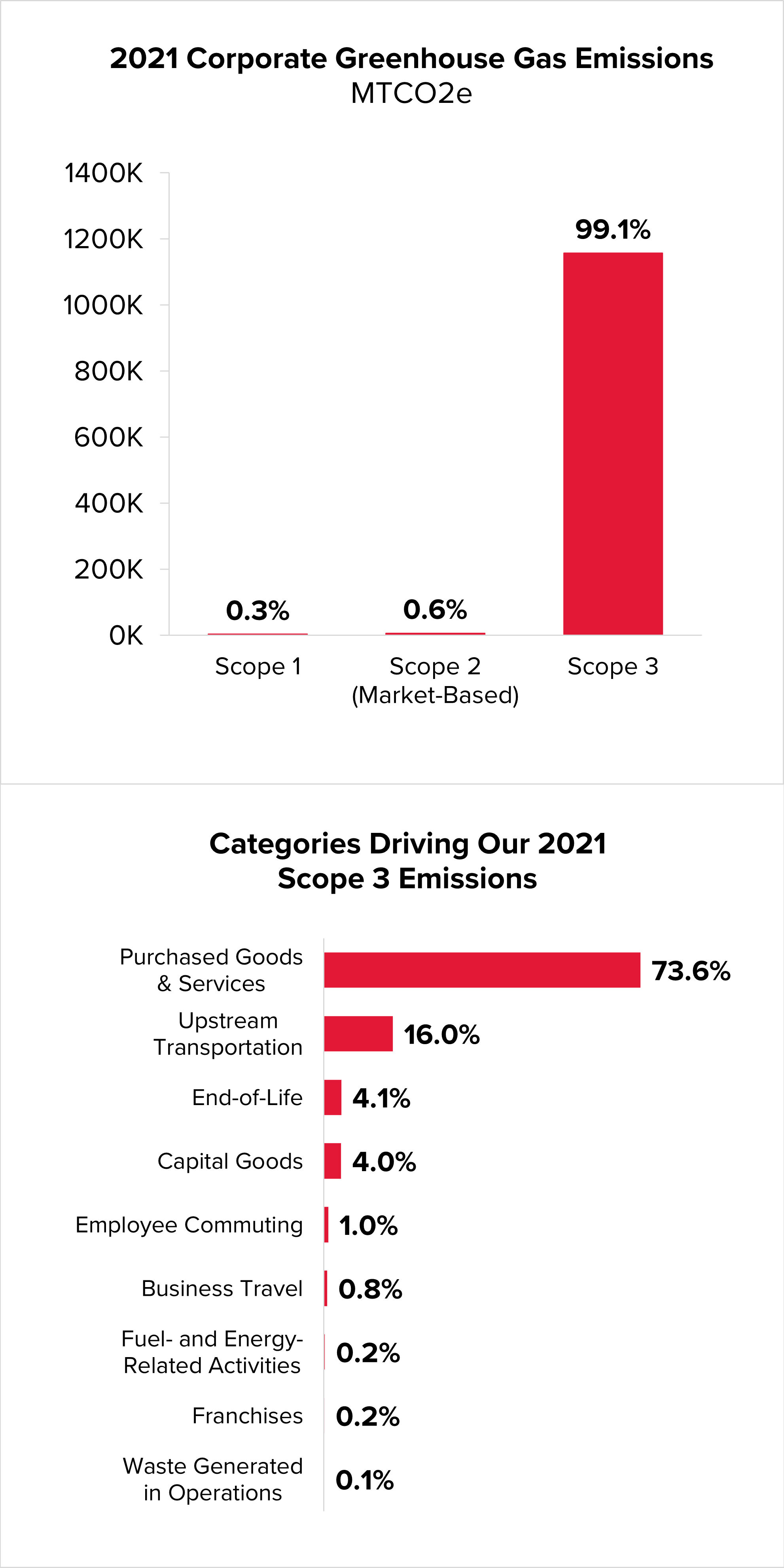 Commitments and Collaborations
RE100
RE100 is a global initiative bringing together the world's most influential businesses committed to 100% renewable electricity. By increasing corporate demand for renewable energy, we spur greater renewables development, a critical step in transitioning to a net-zero emissions economy.
UN Fashion Charter for Climate Action
New Balance joined forces with the broader textile, apparel and footwear industry to invigorate a common commitment under the UN Fashion Industry Charter for Climate Action.
Business Ambition for 1.5°C
Business Ambition for 1.5°C is an urgent call to action from a global coalition of UN agencies, businesses and industry leaders to set science-based net-zero aligned emissions reduction targets.
Outdoor Industry Association Climate Action Corps
The Climate Action Corps is a collaboration within the outdoor industry to lead on climate action with a goal to become the first climate positive industry by 2030.
Collaboration is key to driving our Responsible Leadership efforts. See more on our stakeholder engagement.
For a number of years New Balance has been helping footwear suppliers improve their energy performance. We focus our attention on Tier 1 footwear factories and Tier 2 mills and tanneries, which represent a significant portion of our Scope 3 emissions.
New Balance collaborates with leading experts to emphasize energy efficiency and renewable energy usage throughout our global supply chain. Together with other footwear and apparel brands, we are driving behavioral change across the industry.
Our supply chain energy program focuses on planning and capacity building, guiding each factory to create its own Energy Efficiency Plan that prioritizes energy conservation measures and action plans. We regularly discuss energy topics at our supplier workshops, and we collect monthly energy data from suppliers using our Environmental Impact Data system. We work with suppliers to recognize energy champions, engage in trainings, and conduct energy walk-throughs to familiarize teams with key operations and identify high-demand areas, as shown below.
Driving Positive Change with Suppliers
GIZ
New Balance works closely with the GIZ Energy Support Programme (GIZ/ESP) GmbH with the aim of contributing to Vietnam's emissions reduction and green growth strategies. In partnership with GIZ, we've implemented multiple programs across our supply chain to improve energy efficiency, educate factory teams about energy management and develop rooftop solar energy projects.
Most recently, we enrolled our Vietnamese footwear suppliers into the Small Energy Efficiency Group (SEEG) that provides energy training to factory teams, enabling them to identify meaningful energy saving opportunities.
IFC
In 2016, New Balance became one of the first footwear brands to work with the International Finance Corporation (IFC) to launch their Vietnam Improvement Program (VIP) to drive sustainability in the apparel, textile and footwear sector. The VIP program aims to promote green growth in manufacturing supply chains of the textile, apparel and footwear sector in Vietnam. It assesses overall resource efficiency and clean energy options at supplier factories through detailed engineering assessments, trainings and program development. IFC's program is unique in that it also helps factories access financing for larger, more complex projects that otherwise might not be available.
Over two years (2019-2020), New Balance suppliers in the VIP program achieved combined annual savings of more than 11,800 MWh, 9,500 MTCO2e and $700,000.
Aii
New Balance works with the Apparel Impact Institute (Aii) under their Carbon Leadership Program (CLP) and Clean by Design (CbD) initiative.
As of 2022, New Balance has enrolled 20 suppliers in the CLP program to undergo initial carbon tech assessments that benchmark supplier readiness, assess maturity, identify scalable energy reduction measures and create plans for even broader engagement.
New Balance has worked with CbD since 2015 to reduce energy and water consumption at strategic textile mills. Six of our key textile mills in China and Taiwan (ROC) have participated in or are in the process of running the CbD program. Four of the mills that completed the program attained combined greenhouse gas (GHG) reductions of 6,500 MTCO2e and freshwater savings over 1.3 million m3.
Starting in 2021, we are piloting a new concept with Aii to apply CbD strategies during the design and construction phase of a new mill, aiming to establish guidelines and best practices to use as a model for future facilities.
Paiho was a mill participant with the CbD program between Fall 2019 and December 2021. After a thorough assessment, their top savings opportunities included steam trap maintenance, natural lighting, steam valve insulation, air compressor leak repair, dehydrator replacement with vacuum suction machines, waste heat capture for drying and reduced overflow of cooling water.
By participating in the CbD program, Paiho received valuable assistance and identified annual GHG reductions of 2,581 MTCO2e (10% of total emissions), water savings of 41,000 m3 (12% of total consumption) and cost savings of $370k, which was a payback of less than 1 year.
New Balance works closely with suppliers to accelerate their transition to renewable energy. In Vietnam, we partnered with IFC and GIZ to assess feasibility of rooftop solar and guide suppliers through the development process. Since 2019, 15 new rooftop solar systems have been added within our supply chain.
One of our Tier 1 footwear suppliers in Vietnam installed a 1.2 MW system that can provide 15% of their annual electricity needs, resulting in a carbon footprint reduction of 1,875 MTCO2e per year. A Tier 2 sole supplier installed a 2.3 MW rooftop solar system capable of providing 58% of total power demand, leading to an annual carbon reduction of 2,546 MTCO2e.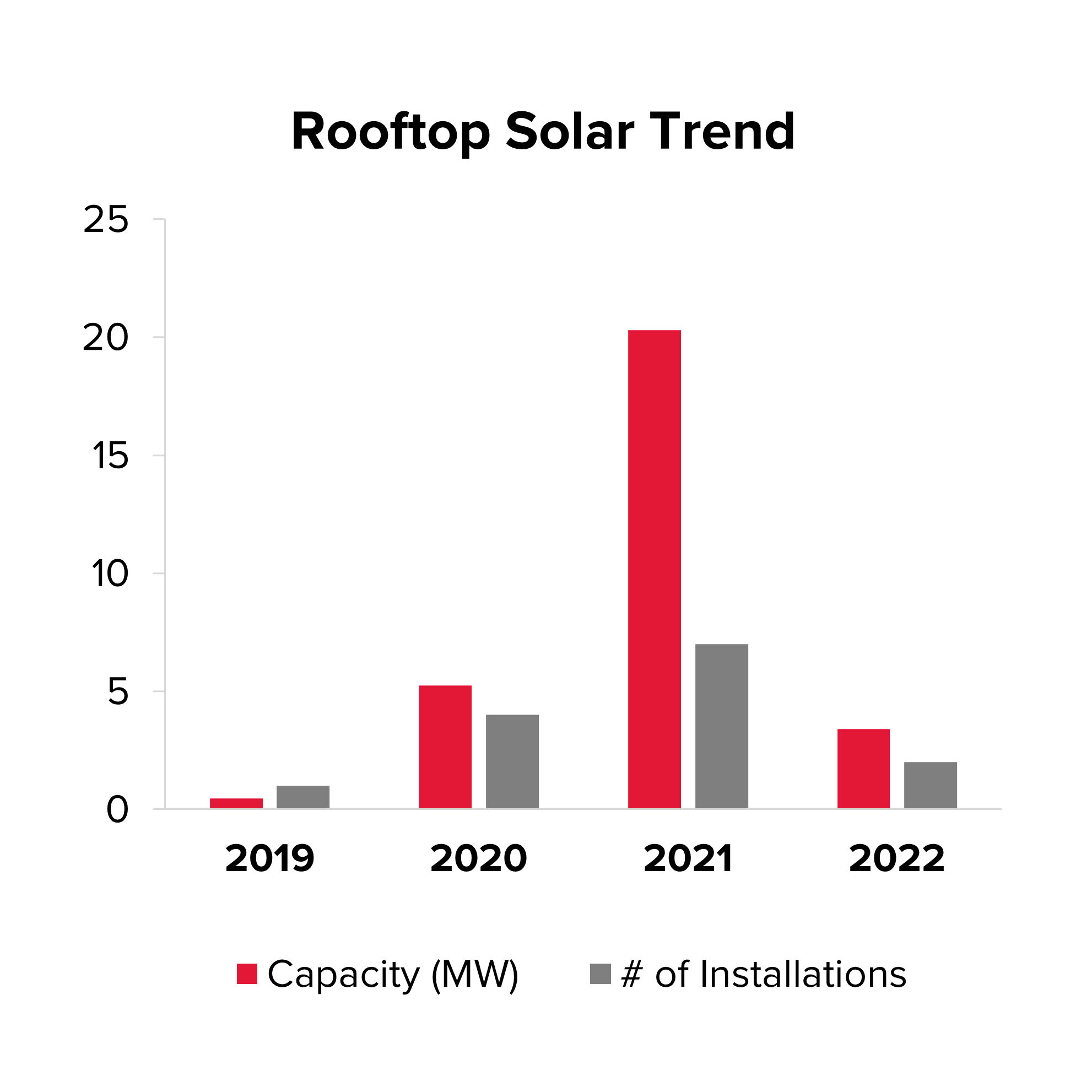 We have ambitious goals that will require collaboration in order to achieve them. That's why we're working with governments to enact new climate policies and with our customers to broaden engagement. Throughout 2021, New Balance was more active than ever – here are some highlights:
1% for the Planet: Donations from our 1% program are supporting non-profits like Protect Our Winters, working on climate change and protecting public lands.
British Consulate-General Vietnam Workshop: In May 2021, New Balance shared testimony with COP26 President Alok Sharma during his visit to Vietnam, speaking to the need for greater access to renewable energy across our international manufacturing operations.
Outdoor Industry Association (OIA): In September 2021, New Balance signed the OIA Reconciliation Sign On letter supporting strong climate provisions within the U.S. reconciliation bill, which influenced the U.S. position at COP26.
Corporate Clean Energy Alliance: New Balance joined the U.S. Agency for International Development's Corporate Clean Energy Alliance, working with host governments and like-minded partners to facilitate rapid deployment of clean energy in Southeast Asia.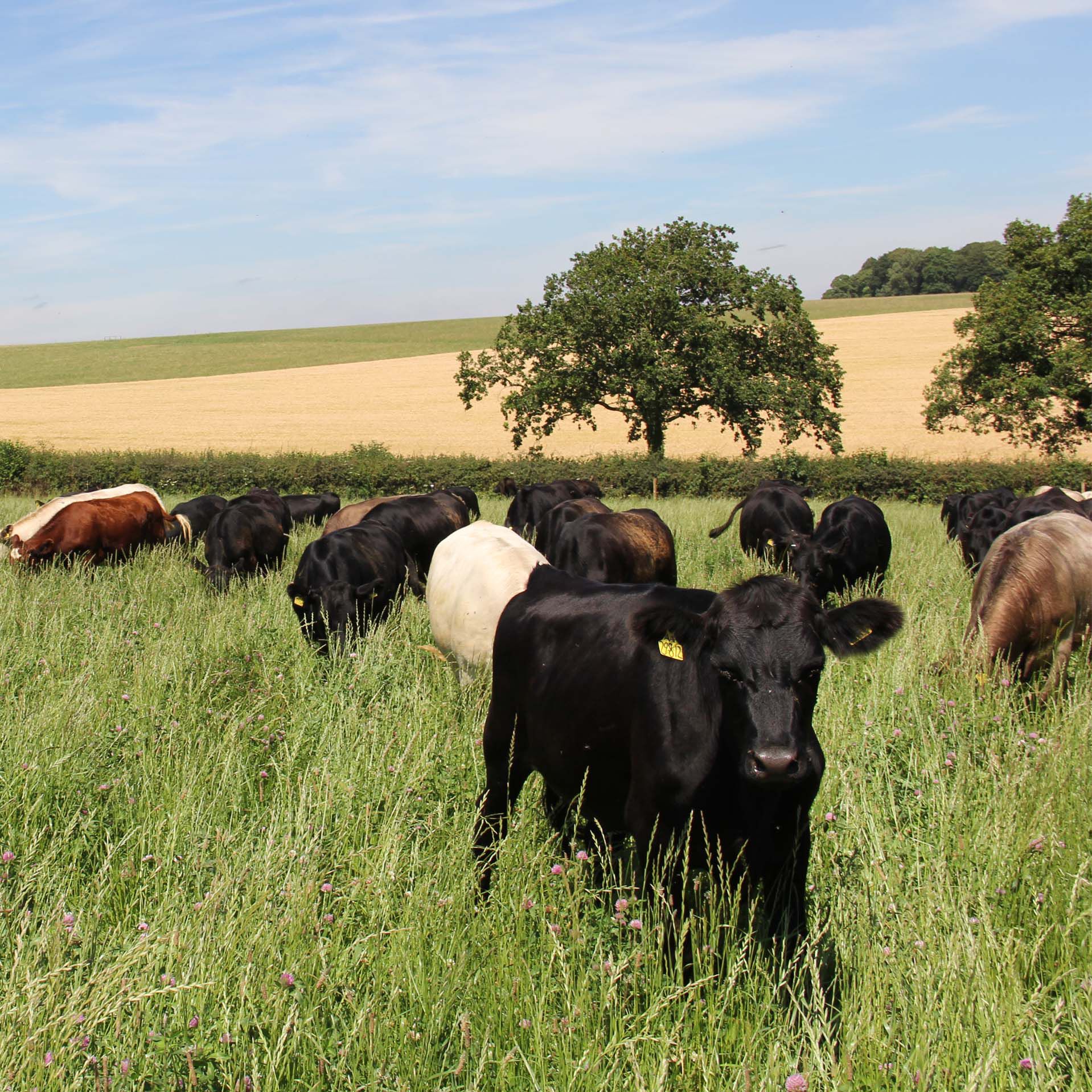 Land Use
Land use has significant impacts on climate change and overall ecosystem health. We are working to ensure that our supply chain is deforestation free and we're exploring how regenerative agriculture can play a role in our materials sourcing. We are early in our journey, and this will require much greater levels of traceability in our supply chain – going back to the raw material stage.
Regenerative Agriculture
New Balance is a member of Savory Institute's Land to Market program, an outcome-based sourcing solution for raw materials coming from verified regenerative land. In 2023, New Balance will introduce products made with leather from verified regenerative ranches, and we're actively working to scale regenerative sourcing further across the supply chain.
Deforestation
Leather and paper are two of our biggest deforestation risks. Leather is one of our top footwear materials, and paper is our primary packaging material. For leather, we're continuing to scale our regenerative efforts and we're working alongside peers and the Leather Working Group (LWG) to improve leather traceability across the footwear supply chain.
For paper, we maximize recycled content first and are increasing forest certifications for any remaining virgin content. Our core shoe boxes contain 90% recycled content, and most of our shopping bags in the U.S. and Europe are Forest Stewardship Council (FSC) or the Programme for the Endorsement of Forest Certification (PEFC) certified. Shipping cartons used in our own U.S. distribution centers are Sustainable Forest Initiative (SFI) certified.