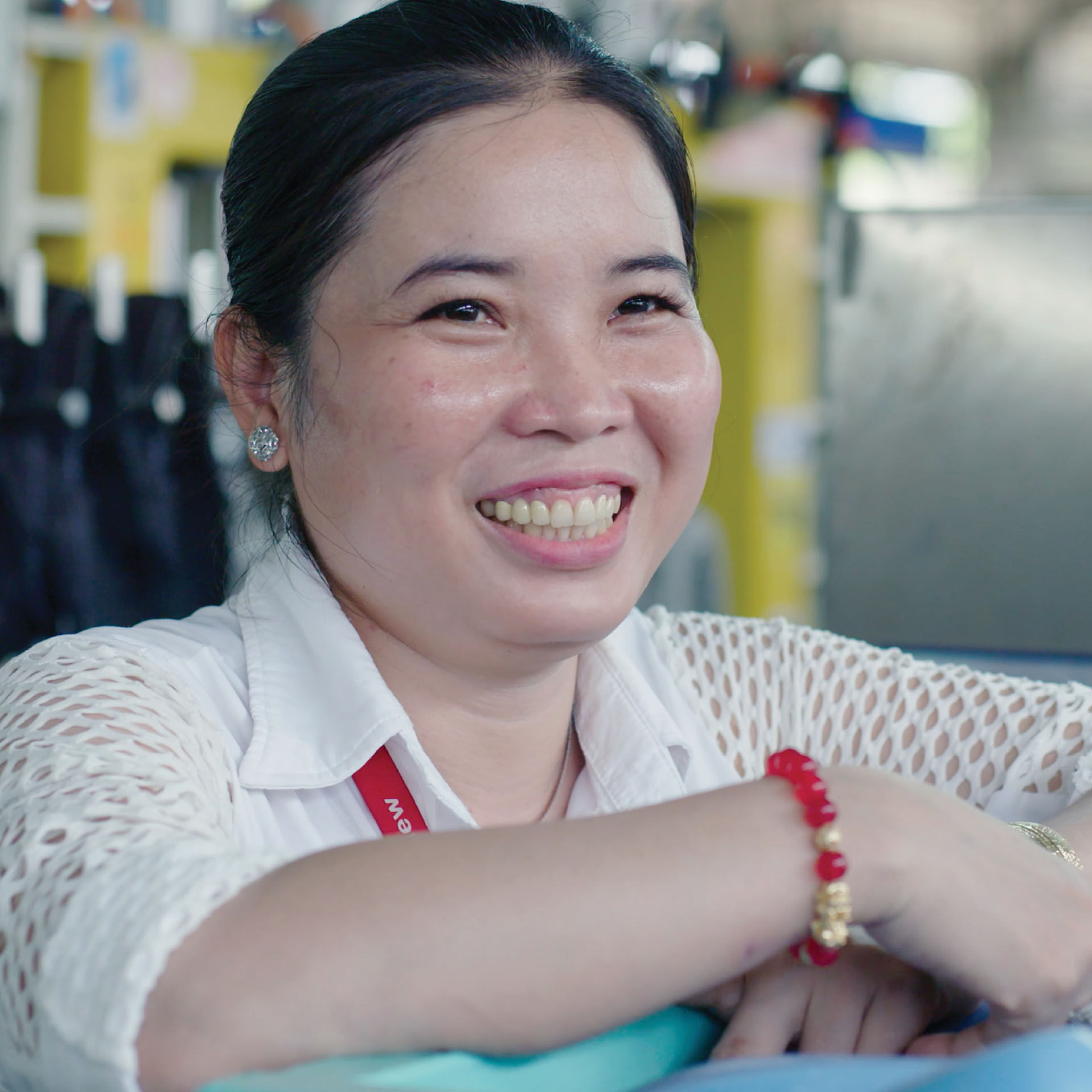 Women make up over 80% of the workforce in our Tier 1 supply chain. We recognize that women workers often face greater challenges in the workplace related to discrimination and harassment, pay equity and carrying dual roles of working outside the home as well as being a primary caregiver at home. We believe that women in our supply chain should have a voice and equal opportunities to succeed. For that reason, we have committed that by 2025, 100% of women workers in our strategic footwear factories will participate in training and education programs for personal and career development. This target is one way we are working to support the United Nations (UN) Sustainable Development Goal #5 on Gender Equality. For more information on our progress toward this target, read about the P.A.C.E. program below.
We look closely for any indications of harassment and discrimination during our audit process, especially when interviewing workers and while reviewing a supplier's policies and procedures. Our suppliers must maintain effective grievance channels where employees can report violations.
In 2021, our audits found six noncompliances linked to gender-based discrimination and harassment, maternity pay and benefits, and/or treatment of pregnant workers. One involved a case of sexual harassment at a factory that resulted in termination of the offending employee and additional sexual harassment training for factory employees. Four audit findings involved insufficient pay or time off for women on maternity leave; of these, three suppliers have addressed and corrected their pay and leave policy, and one case is pending review in the next audit. Finally, one case involved a supplier using hiring advertisements that excluded women applicants. This supplier has since corrected its hiring practices.
In 2019, we adopted Gap Inc.'s Personal Advancement & Career Enhancement (P.A.C.E.) program to drive progress toward our 2025 goal to have 100% of women workers in our strategic footwear factories participate in personal and career development programs. P.A.C.E. is an innovative curriculum-based learning program to help improve the lives of women workers in the global supply chain. Through P.A.C.E., workers learn effective communication skills, that help with better decision making and problem solving leading to improved time and stress management techniques, alongside financial literacy, and water sanitation and hygiene knowledge.
The P.A.C.E. program has demonstrated that investing in women's education not only brings benefits to workers, but also benefits businesses through higher retention and productivity levels. Our suppliers participating in P.A.C.E. have reported improved communication between direct line leaders and workers. Participants have also shared individual success stories, including having improved confidence and better communication and problem-solving skills at work and home.
As of May 2022, we launched P.A.C.E. at six footwear suppliers in China, Indonesia and Vietnam. Despite the program being paused for a year during the pandemic, 800 women graduated from P.A.C.E. The program will continue expanding until we meet our goal of reaching the more than 50,000 women workers in our strategic footwear factories.
We are also proud to partner with Gap, Inc. and CARE to sponsor the P.A.C.E. program for marginalized and at-risk adolescent girls and boys in West Java, Indonesia. In 2021, the program was implemented in 30 schools, reaching over 2,200 female students and nearly 800 male students. This program promotes greater gender equality by improving girls' agency, life skills and leadership ability and helping young boys support girls' leadership in their school and community.