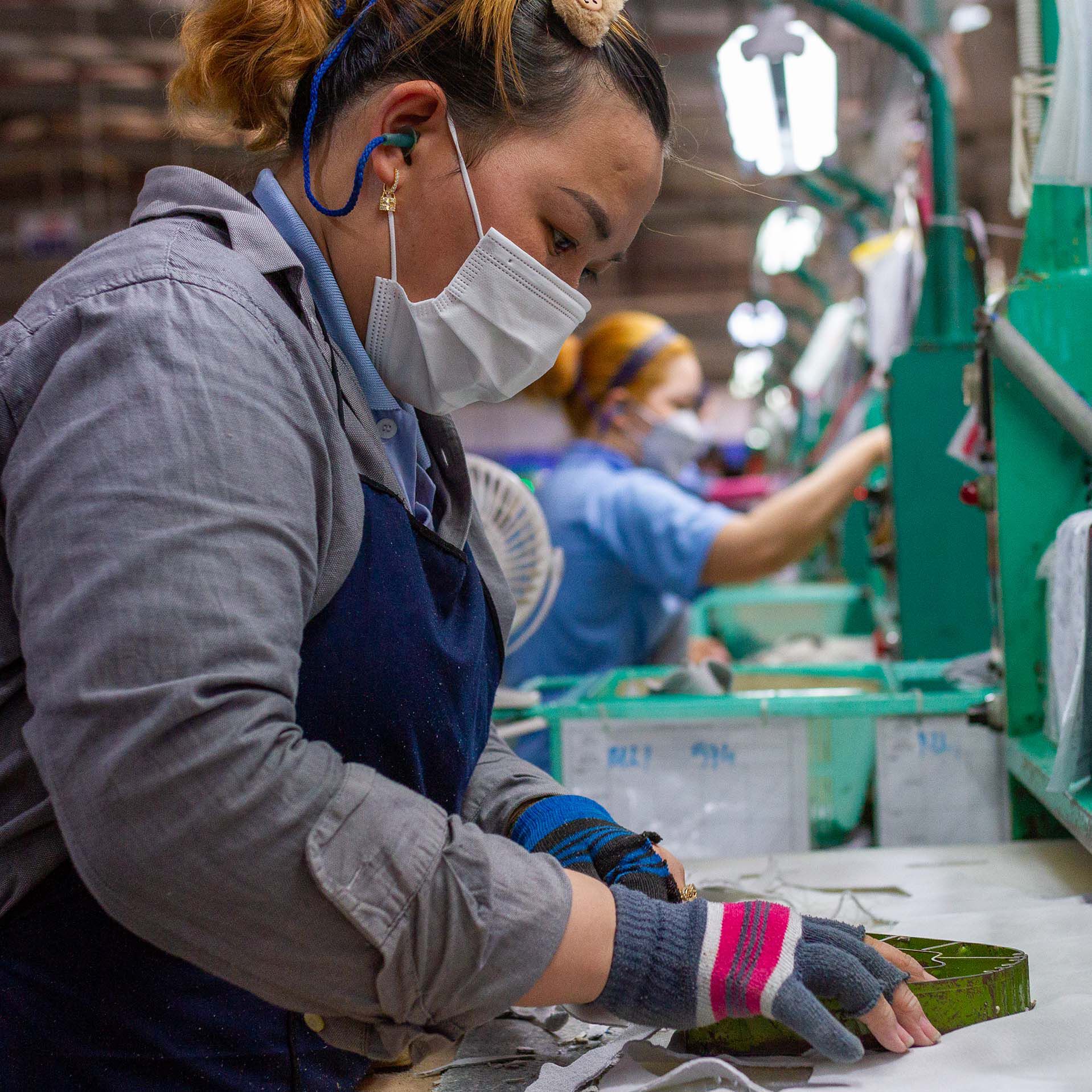 Labor Rights
The people who make our products — no matter where they are located in the world — should be treated with dignity and respect. We believe they have a right to make their voices heard, earn a fair wage and work in a safe and healthy environment. Over 185,000 workers are part of our global Tier 1 supply chain. By working with our suppliers to uphold and promote good labor practices, we can have a significant positive impact on the lives of many.
Our Commitment
Part of our commitment to treat people with dignity and respect means paying them fair compensation. Workers are entitled to pay that allows them to meet their basic needs and have some discretionary income.
Our Supplier Code of Conduct requires suppliers to pay at least the minimum wage or the industry prevailing wage, whichever is higher, plus all legally mandated benefits. We do not allow suppliers to use temporary work arrangements where the sole purpose is to avoid payment of legal benefits.
In cases where workers are unable to meet their basic needs and earn discretionary income in a regular workweek, we work with suppliers and external stakeholders to find practical ways in which fairer compensation can be progressively realized. We recognize that compensation is a complex issue involving macro- and micro-economics, social and cultural norms and political priorities. We are engaging with workers, factories and civil society to tackle this issue from many angles, including creating a working environment that enables constructive worker-management dialogue about wages, promoting effective legal wage-setting mechanisms, considering public policy advocacy and exploring improvements to factory efficiency and productivity during the regular workweek through value-added manufacturing and skills training.
Our Work
The Fair Labor Association's (FLA) Fair Compensation Dashboard and wage data collection tools are central to our fair compensation approach. The tools enable us to benchmark current wage levels, understand high-risk compensation issues and compare compensation across countries and factories and against benchmarks like poverty lines and living wage estimates.
Since 2016, we have collected wage data from 34 suppliers, representing about 20% of our global supply chain. Analyzing this wage data, drawn from suppliers across 11 different countries, helped us develop our fair compensation blueprint, a roadmap for meeting our commitment to fair compensation. In addition to analyzing wage data, we considered factors like country risk, potential impact, sourcing strategy and supplier relationships in setting our fair compensation direction and goals. In 2020, we adopted a three-part approach to demonstrate progress on fair compensation at strategic and high-risk country suppliers:
The foundation of our approach is to ensure minimum legal compliance at all suppliers. We track, monitor and remediate high-risk and zero tolerance wage and benefits issues through our basic compliance program and quarterly wage and benefits scorecard.
To maximize impact, we chose to focus our efforts on strategic footwear suppliers located in Vietnam working toward the Global Living Wage Coalition's (GLWC) Living Wage Estimate where estimates exist. As of June 2022, we are engaging all eight targeted suppliers in fair compensation reviews and discussions.
In countries where wages may be insufficient to meet workers' basic needs, we are progressively collecting and analyzing supplier wage data to better assess the risk in our supply chain. Based on these findings, we will continue to adjust our strategy and priorities for supplier engagement and industry collaboration.
In 2021, we identified only one zero-tolerance wage violation, which was at a new supplier in China. The supplier failed to pay the legal minimum hourly wage in some cases, due to use of a piece-rate system. As a result of our work with the supplier, they revised their wage system to include an hourly wage.
In addition to the work we do as part of our fair compensation blueprint, we promote fair wages by encouraging worker dialogue and supporting education and training programs for personal and career development.
In 2022, we sponsored the Anker Research Institute to further inform our work and engage with experts on the latest research on living wages globally.
We will continue to implement and update our fair compensation blueprint based on what we learn through our work with suppliers, civil society and industry stakeholders. As part of our Responsible Leadership targets, we also plan to publish targeted supply chain wage data to demonstrate progress toward fair compensation.
Responsible Purchasing Practices
We recognize that sometimes the way in which we design products and place orders can affect working conditions in our supply chain. For example, product seasonality, inaccurate order forecasting or late changes to design or material specifications can lead to volatility in production needs, which in turn may create challenges at the factory level if demand exceeds capacity.
Our Sourcing Guidelines lay the foundation for our sourcing practices and include, but are not limited to, expectations around realistic factory loading, sourcing mix, capacity planning and costing strategy. In 2021, we participated in supplier surveys facilitated by Better Buying to encourage our footwear and apparel suppliers to provide feedback about our practices. Departments across the company reviewed the survey findings to identify areas for improvement. The Better Buying survey also helped us understand where our policies and practices were unclear and where we needed to improve supplier communications.
To further monitor the impact of our purchasing practices, we require footwear suppliers to get authorization for overtime hours. Doing so gives us an opportunity to look for solutions other than increasing working hours and allows us to examine root causes, whether stemming from our practices or those of the supplier.
We know that our purchasing practices are critical for creating a business environment that promotes fair compensation. As an example, our Costing team calculates an average labor cost per hour to be used when determining the labor cost for a product. The labor cost per hour is inclusive of legally required basic wages, overtime pay and social benefits (e.g., social insurance, severance, retirement funds), as well as incentives, bonuses and allowances that are voluntary and above legal requirements to support competitive pay and worker retention. Working hours also take into consideration overtime, holidays and leave. These labor costs are updated and "locked" during costing negotiations for all applicable footwear orders to support legal compliance and promote fair compensation.
Our supplier scorecard integrates compliance performance with measures of sourcing performance, such as quality, delivery, cost and speed-to-market. The scorecard incentivizes good compliance and business performance and is used to inform future sourcing plans and order allocations.
A Harvard Business School case study gives more insight into our order management process and how it helps drive improved working conditions.
You can also read more about our responsible purchasing practices in the Fair Labor Association's 2018 New Balance Reaccreditation Report.
Strengthening Worker-Management Dialogue
We value regular and constructive worker-management dialogue in the workplace. Our Supplier Code of Conduct requires suppliers to respect fundamental human rights, including the right of employees to associate and collectively bargain. Where freedom of association or the right to collective bargaining is restricted by law, employees are free to develop other means to those ends. In 2022, approximately 15% of our suppliers (excluding those located in China and Vietnam) have independent, democratically elected unions.
In Indonesia, we are part of the Freedom of Association (FOA) Protocol, a national-level, multi-stakeholder initiative comprised of brands, suppliers, non-governmental organizations (NGOs), trade unions and union federations. We participate in the Protocol National Committee meetings where current challenges and opportunities related to industrial relations in Indonesia have been discussed.
New Balance also encourages suppliers to work with the ILO/IFC Better Work program to establish Performance Improvement Consultative Committees (PICCs) comprised of worker representatives and factory management. PICCs serve as a mechanism for raising workers' concerns to factory management, as well as for discussing the remediation process for compliance audit findings. During the establishment of PICCs, workers also receive training through Better Work on freedom of association rights and principles.
Workplace Dialogue
Our beyond compliance program, Marathon, includes a Workplace Dialogue module with tools and guidance to help suppliers form functional workplace communication committees made up of workers and management. We encourage participation by suppliers who performed well in our annual audit and have functional grievance mechanisms. Through improved dialogue, we aim to help factories increase workplace satisfaction and productivity while reducing turnover rates. In 2021, 12 suppliers participated in the Workplace Dialogue module. Our goal is that by 2025, 100% of our strategic suppliers will lead worker well-being or engagement programs. Currently we're on target at 70%.
Grievance Mechanisms
Our Code of Conduct requires suppliers to develop and implement effective mechanisms to resolve workplace disputes and employee grievances. Suppliers may not retaliate against workers who voice concerns and must protect worker confidentiality if requested. We assess the availability and functionality of local grievance mechanisms as part of our regular audits, both by reviewing reported grievances as well as by interviewing workers about their access to and understanding of a supplier's grievance process.
Ideally, grievances should be raised and addressed appropriately within the workplace. That said, if needed, any worker or third party may contact us directly through the email address CSR@newbalance.com printed in our Supplier Code of Conduct. In addition to emailing New Balance, concerned parties may also reach out to our Compliance team during audits or other factory visits or use third-party grievance mechanisms, such as the Fair Labor Association's third-party complaint mechanism.
If and when our Compliance team receives an external complaint or concern, whether via email, phone call, letter or from an in-person meeting during an audit, we evaluate the communication to determine whether it is a grievance related to social or environmental violations by New Balance or by a supplier, licensee or contractor working with us. The grievance may come from a worker, union representative, supplier, any third party or civil society organization. If the communication asks a question or requests clarification and does not rise to the level of a grievance, we document it and then forward to the relevant party to review and respond.
If the communication describes a grievance, we evaluate its severity based on the level of impact and type of issue reported and forward to the appropriate regional or country compliance manager to investigate as necessary. High-risk issues are reported to the head of Global Compliance and tracked from our corporate office. The assigned manager at the country or regional level implements and monitors a resolution, working with the supplier and all affected parties. We strive to resolve high-risk issues within 30 days (and potentially even sooner for the most serious cases) and resolve medium or low-risk issues within 45 days. We respond to complainant(s) in writing or via a documented in-person meeting. If the complainant does not accept or agree with the resolution, the complainant can file a complaint again or contact a third-party organization, such as a local civil society organization, the Fair Labor Association, etc.
Local Worker Hotlines
Grievance mechanisms are most effective when they are localized and easily accessible to workers. Accordingly, we work with third-party service providers in China, Vietnam and Indonesia to implement local worker hotlines in supplier facilities in these countries, which represent the majority of our sourcing volume. The local hotline providers train the workers on the hotline system and maintain multiple channels, such as phone, text and mobile apps, for reporting grievances as well as for raising concerns or asking questions. Factories must train workers on grievance mechanisms and publish the hotline access numbers throughout their facilities. The third-party providers receive the hotline reports and, as appropriate, refer them to the factory for resolution. We are informed immediately of any high-risk issues and, depending on the nature of the grievance, may conduct our own investigation to determine how best to address.
In 2021, the majority of workers who contacted the local third-party worker hotlines were seeking assistance on personal issues or had basic questions related to working hours, factory management, payment of wages and benefits or employment contracts. The hotline reports included approximately 45 workplace grievances, of which only seven were classified as high-risk. Five were related to workers being verbally harassed by their supervisors in the workplace, one was related to wages and one was related to working hour violations. All have been closed and remedial actions verified.
In the footwear and apparel industry, human trafficking and slavery risks are greatest where there are migrant workers. In many cases, suppliers may not recognize that withholding passports, often cited for security reasons, or using labor brokers who charge recruitment fees can lead to forced labor risks.
Forced labor is a zero tolerance issue for New Balance. Key requirements in our Supplier Standards Manual designed to protect against human trafficking and forced labor include voluntary employment, freedom of movement and elimination of worker recruitment fees. We have worked with our Tier 1 and strategic Tier 2 suppliers who employ foreign migrant workers to increase awareness of forced labor risks. Any supplier that employs foreign or domestic migrant labor undergoes additional scrutiny for potential forced labor risks during the compliance audit. If a supplier is found to have forced labor violations, they are required to implement immediate and thorough remediation to continue doing business with us. Detailed guidance is provided in our Supplier Standards Manual, including requirements related to foreign worker contracts, access to passports and personal identification documents and prohibition of recruitment fees.
In 2018, we signed the AAFA/FLA Apparel and Footwear Industry Commitment to Responsible Recruitment. The commitment reinforces our work with suppliers that employ migrant workers to create conditions so that:
No workers pay for their job.
Workers retain control of their travel documents and have full freedom of movement.
All workers are informed of the basic terms of their employment before leaving home.
We set a goal that by 2023, all Tier 1 and strategic Tier 2 suppliers will adhere to our commitment to Responsible Recruitment to eliminate the risk of forced labor. Our goal is currently on target, with findings of fees remediated in our Tier 1 suppliers, and standards achieved for over 90% of the 16 strategic Tier 2 suppliers we have engaged.
For more information, please see our most recent Human Trafficking and Modern Slavery Statement.
New Balance is deeply concerned about the reports of forced labor of the Xinjiang Uyghur Autonomous Region (XUAR) of China and its links to the apparel and textile supply chain. Based on our Supplier Code of Conduct, we have zero tolerance for forced labor anywhere in our supply chain and seek to ensure that the people who make our products, no matter where they are in the world, are treated with dignity and respect.
New Balance does not have any manufacturers of finished products nor any nominated material suppliers in the XUAR. As directed by U.S. regulation and advisories, our policies state clearly that suppliers may not source or manufacture products for New Balance in the XUAR. We recognize that the risk of forced labor increases as we go further upstream in the supply chain where we also have less visibility and leverage. We are expanding our mapping of the cotton yarn supply chain as well as exploring technologies and other methods to better assure raw material origins. In addition, we continue to monitor forced labor risks throughout our global supply chain especially where domestic and/or foreign migrant labor is present.
The situation in the XUAR is extraordinarily complex and far beyond the ability of one company or even one industry to address on its own. We believe that collaborative engagement and action across industry sectors, civil society actors and governments is critical and that multiple pathways of engagement, from diplomatic channels to commercial ties, must be thoroughly explored.
As part of our industry collaboration, New Balance supports the Joint Statement released by the American Apparel & Footwear Association (AAFA), Retail Industry Leaders Association (RILA), National Retail Federation (NRF), U.S. Fashion Industry Association (USFIA) and the Footwear Distributors & Retailers of America (FDRA).