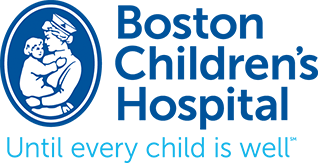 Boston Children's Hospital
A $17-Million Commitment to Tackling
Childhood Obesity,
From Clinic to Community
Visit Website
Childhood obesity is a multifaceted illness that demands determined minds, innovative approaches, comprehensive clinical care, and a commitment to community education and advocacy to advance its prevention and treatment.
This is exactly the scope of work of the New Balance Foundation Obesity Prevention Center at Boston Children's Hospital, which was established in 2010 with a landmark $7‑million gift from New Balance Foundation.
New Balance Foundation's gift has supported the Center's work on multiple fronts:
Creating the tools families and community organizations across the United States
need to lead more active and healthy lives,

Continuing the research that is essential to putting an end to the obesity epidemic, and

Expanding and enhancing clinical care.
On each of these fronts, the Center is making significant strides, transforming the lives of overweight and obese children, many from low-income and inner city neighborhoods.
And, still, there is more to do. Knowing that, New Balance Foundation renewed our commitment in 2018, pledging an additional $7.5 million to support the Center's critical work building evidence‑based strategies to promote better nutrition, increase physical activity and facilitate behavior change among children in Boston communities and across the nation.
We must change the culture
so that the healthy choice
is the natural
choice 24 hours
a day for children.
David Ludwig, MD, PHD
Co-director, New Balance Foundation Obesity
Prevention Center
Boston Children's Hospital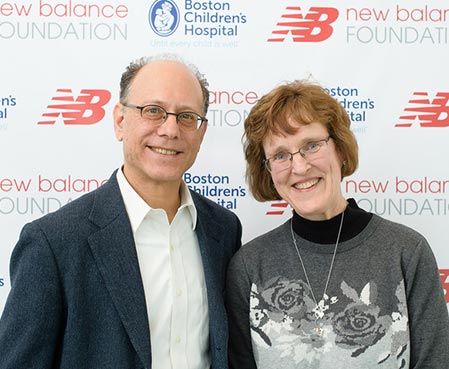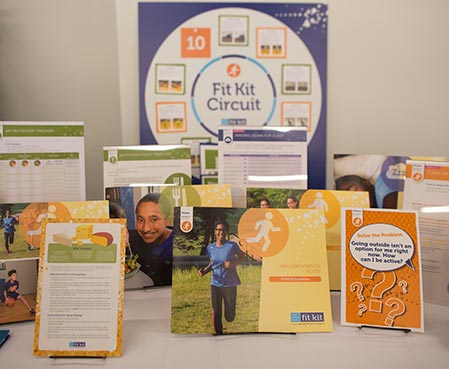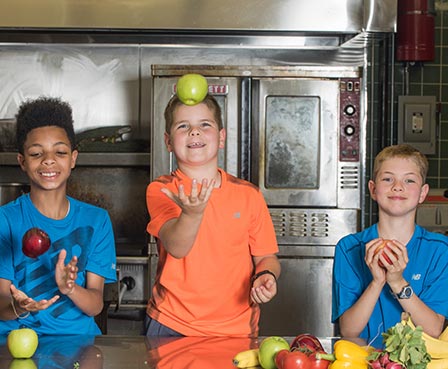 Led by Drs. David Ludwig and Cara Ebbeling, both respected clinical researchers and leaders known for their precision thinking and productivity in the field of childhood obesity, the Center is expanding clinical and community efforts to create a new era in obesity prevention through its novel Wrap‑Around Model of Care that aims to reverse childhood obesity trends. The Wrap‑Around Model is designed to reach the full 360 degrees of children's lives, establishing strong interventions with consistent messaging in the medical home, schools, community youth organizations and family home.
The Fit Kit project, which was launched by the Center early in 2017, is a core component in the delivery of the Wrap‑Around Model. Built around five key topics – fitness, nutrition, sedentary time, sleep and stress – the Fit Kit's interactive web‑based assessment tool, standards of excellence, strategies, activities and tips, serve as a state‑of‑the‑art obesity prevention resource for community organizations. With the Wrap‑Around Model, the Fit Kit will support additional audiences, including primary care physicians, schools and more community partners.
New Balance Foundation's gift also continues to support Boston Children's Optimal Weight for Life Clinic (OWL), a multidisciplinary pediatric obesity treatment program that buttresses the Center's work. Since this program first launched in 2007, OWL Clinics have expanded to three locations. In addition, Center‑funded programs – such as OWL on the Water and OWL at the Gym – connect clinic patients with physical activity resources and community programs.
Together, these programs along with the Center's world‑class research, have reached thousands of children and families, one very large step toward solving the childhood obesity epidemic.
Our aim is to redefine feasibility
when designing and evaluating strong interventions
to prevent and treat childhood obesity.
Cara Ebbeling, PHD
Co-director, New Balance Foundation Obesity
Prevention Center
Boston Children's Hospital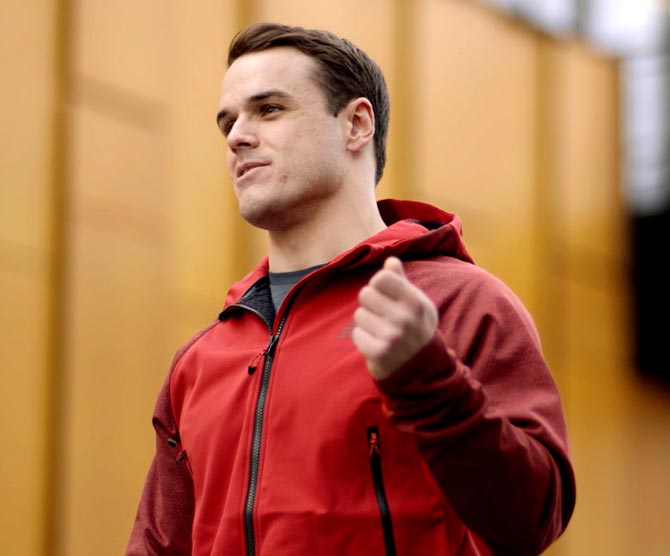 "I was obese as a child and pre‑diabetic. The [OWL] program allowed me to get my health back on track, and get me to the point where I could enjoy an active childhood."
Paul Boscoe, former OWL client and successful graduate
Kids in Boston and Lawrence, MA face an uphill battle when it comes to high‑quality education and recreational opportunities. More than 25 percent of public school students do not graduate high school on time. And according to the Aspen Institute, fewer than 30 percent of young people exercise regularly. These are kids growing up in neighborhoods with high rates of obesity‑related illnesses, such as heart disease and diabetes.
And these kids are SquashBusters' reason for being.
The first urban squash program of its kind, SquashBusters is a sports‑based, after‑school, youth development program that uses a combination of squash and fitness, academic enrichment, community service and character development to open doors to opportunity and prepare students for college.
Since 2006, New Balance Foundation has been a significant SquashBusters supporter, bringing health and opportunity to underserved youth. With New Balance Foundation funding, SquashBusters has tripled enrollment to 300 youth, supported the program's expansion to Lawrence – which celebrated its first graduating class in 2018, inspired partnerships to improve fitness programs, and outfitted SquashBusters' student‑athletes in performance footwear and apparel.
In 2019, New Balance Foundation pledged $3 million dollars to build a dedicated squash and learning center for Lawrence youth. The New Balance Foundation SquashBusters Center will provide a home base to Lawrence allowing the program to serve more youth in an even more impactful way.
New Balance Foundation
is a generous, accessible,
committed, caring supporter.
They inspire people like myself
to keep trying to do good.
Greg Zaff,
SquashBusters Founder and CEO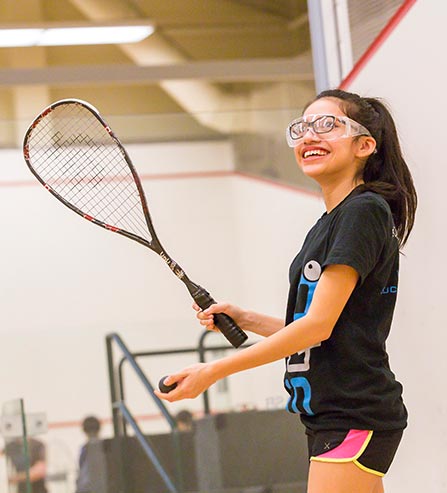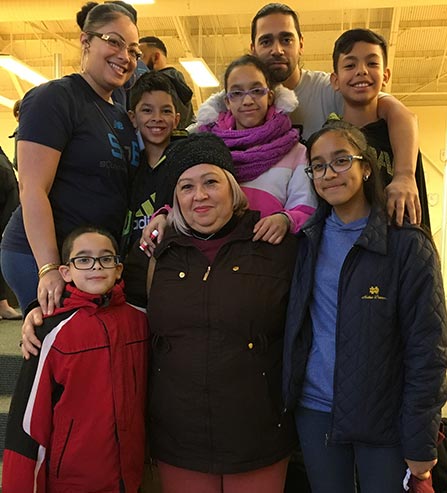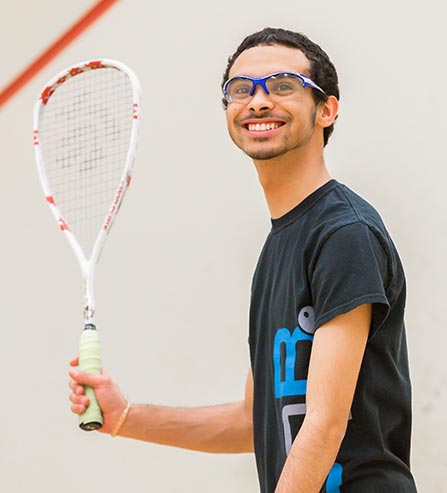 What makes SquashBusters unique is its multi‑dimensional approach with its intensive and long‑term focus on students' educational success, character development and health.
Indeed, college, character and good health are the program's three pillars. Over the six to seven year-long program, from grades 6 to 12, students average 400 immersive hours annually, participating in:
Three hours of academic support and enrichment each week, 33 weeks per year,

Four hours of squash practice and fitness training each week, 33 weeks per year,

Community service projects,

Visits to university and college campuses, and

Squash matches and tournaments.
"The idea is to put kids on a pathway where they come to understand and enjoy exercise through squash," explains SquashBusters founder and CEO Greg Zaff. "And they also learn about hard work, winning and losing, getting along with people, and about setting goals and following through on what you say you're going to do. This is what it takes to get to college or," he adds, "to be successful at anything in life."
And SquashBusters kids do succeed:
99% graduate high school, compared to just over 70% in Boston and Lawrence public schools,

99% enroll in college, compared to 70% in Boston public schools and 67% in Lawrence,

And 78% of SquashBusters students graduate from college within six years, more than twice the average in Boston.
That's the reason why, over the years, SquashBusters has been replicated to improve the lives of thousands of urban youth in 23 cities from Oakland to New York to Johannesburg. It's also why the program has expanded locally – to Providence, RI, and Lawrence, MA.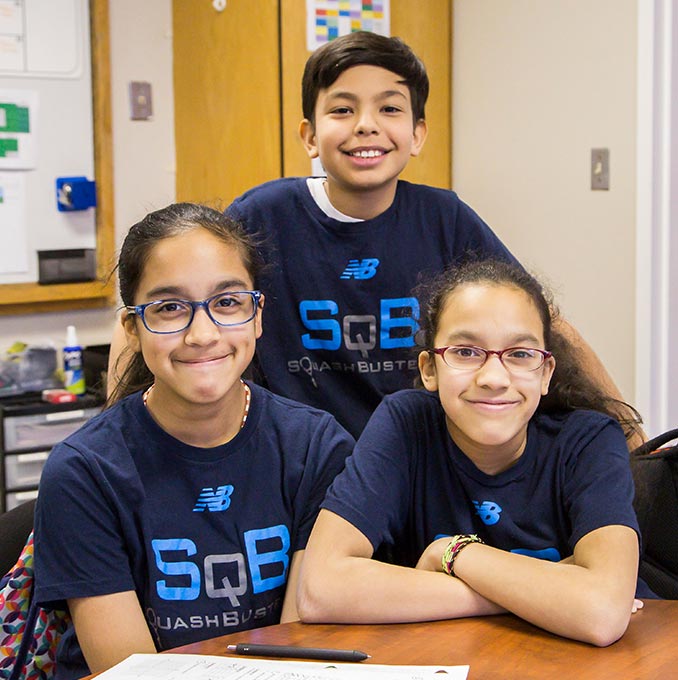 "It's a great program that builds the child all around: their life skills, their school skills, their sports skills," says Maria Diaz, mother to SquashBusters kids Cynthia (in her 4th year of participation), Jasmyne, Adrian and Tony (in his first). Even more than that, the entire family agrees, it's about making new friends, seeing new places and experiencing new adventures. As dad Ray Gomez puts it, "It's a whole world out there that they're meeting."
For more information on the New Balance Foundation and SquashBusters relationship, click here:
Profile: SQB Annual Report 2017
Where do you turn when you are a family scraping by to make ends meet on less than $25,000 a year, worrying about the next square meal for your children, yet working hard to make the American Dream possible for them?
You turn to the West End House Boys & Girls Club, a place that does it all, and does it for the long term.
Each year West End House, an independent affiliate of the Boys & Girls Clubs of America, helps more than 1,600 children and youth from across Boston reach their full potential – improving their grades and succeeding academically, earning college degrees, developing job skills and career networks, expressing themselves creatively, and leading healthy lives.
Since 2004, New Balance Foundation has underpinned the exponential potential being nurtured at West End House by funding the New Balance Foundation Live in Motion program to gets kids moving, eating nutritious meals and learning about healthy lifestyles.
Our New Balance Foundation Live in Motion investment:
Provides 60 minutes of traditional and non‑traditional fitness activities six days a week, including dance, yoga
and walking,

Targets and tracks young people through independent evaluations to measure improvement in their overall fitness,

Supports preparation of daily dinners made from scratch using whole grains, fresh fruits and vegetables

Offers weekly cooking and nutrition classes and culinary training, and

Creates an organizational culture dedicated to healthy lifestyles for young people, families, and staff, including
committing to a Club‑wide policy that prohibits fast food, sugary drinks and candy from being consumed within
the building.
In addition to our support for Live in Motion, New Balance Foundation provided a capital gift of $3 million to support the expansion of West End House facilities, including a new performing arts center, expanded teaching kitchen, expanded teen center and fitness room and gymnasium refurbishment.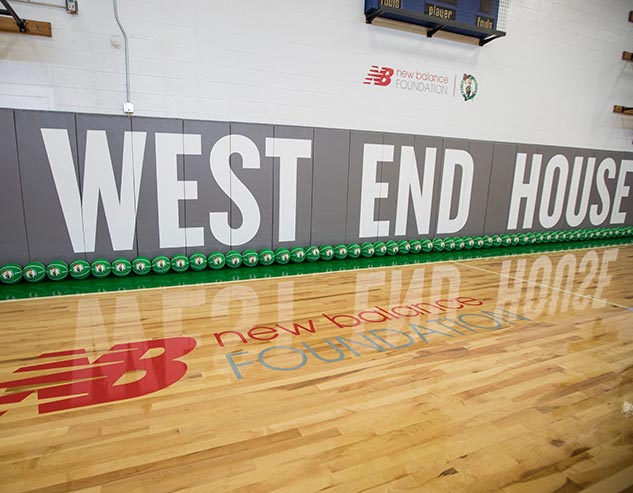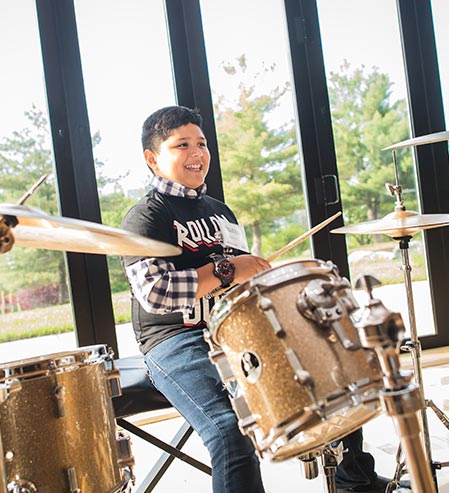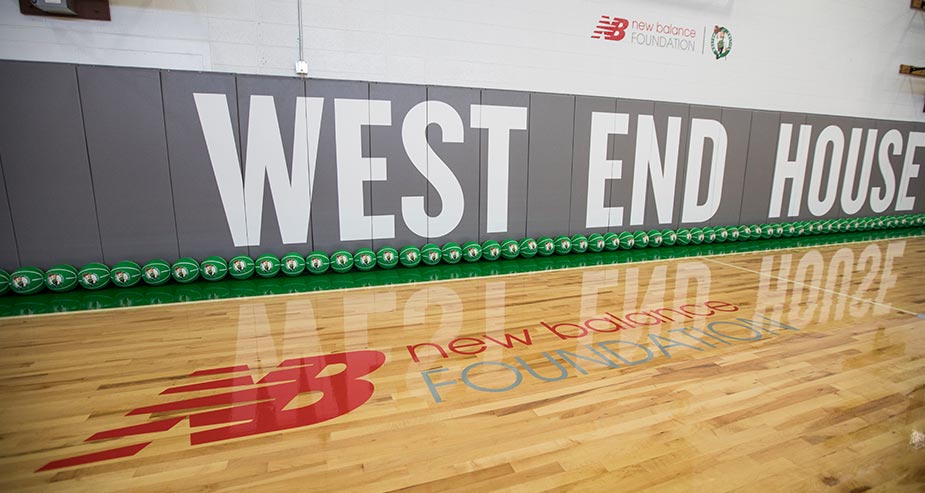 The support from New Balance Foundation has been transformational, according to Andrea Howard, CEO of West End House. "They gave us permission to go deeper and target our program to high‑risk kids," she explains, "[instead of] just trying to serve as many kids as possible." As a result, West End House has grown more ambitious, with its focus shifting from swim/gym to fitness, from hot meals to overall health and nutrition, from arts and crafts to arts mastery, from summer jobs to career readiness, and from dropout prevention to college completion.
The results are impressive. West End House membership has increased by almost 50 percent, average daily attendance by 60 percent, and the number of children and youth reached by Live in Motion has grown to 688 from 150 in 2004. In addition, West End House has nearly tripled the number of meals it serves, from 36,000 in 2003 to 102,000 in 2018, and it has nearly doubled the amount of time fitness activities are available each day. Academic achievements have also followed, with high school graduation rates sitting at 99 percent compared to 94 percent in 2010; and college enrollment by high school graduates reaching 96 percent, up significantly from 85 percent in 2010.
Today, West End House is recognized as one of the most effective youth development agencies in Boston. At New Balance Foundation, we believe that by integrating sports, fitness and nutrition, our support of West End House is helping every day to build life‑long skills, improve the long-term health outcomes and prevent childhood obesity among the children and youth who come to the Club.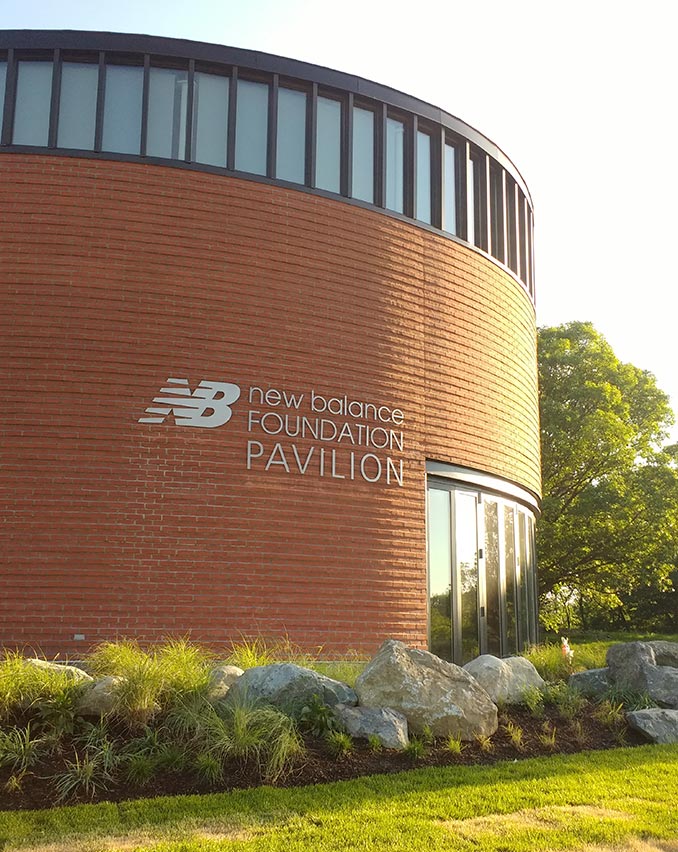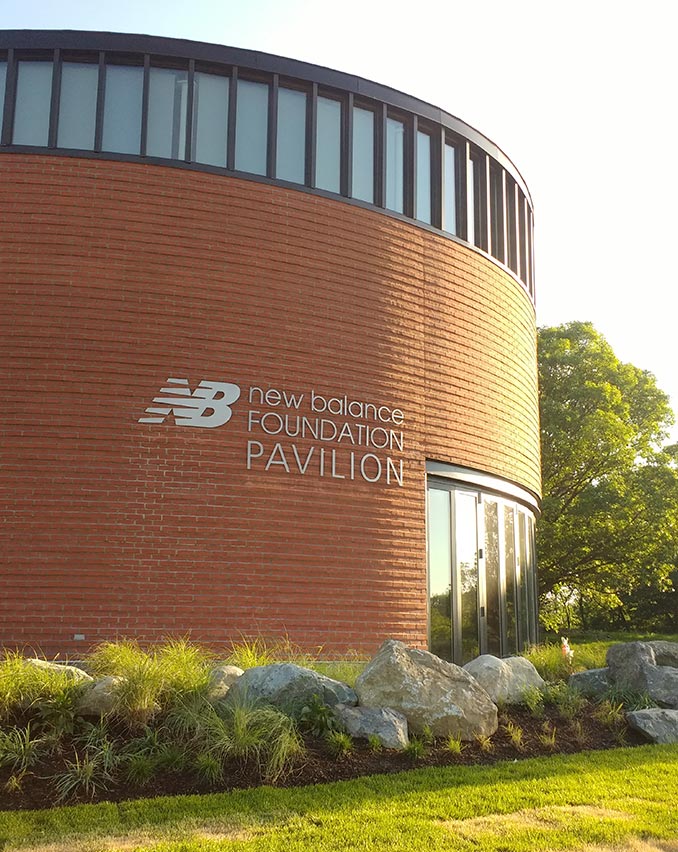 PEER LEADERSHIP
A lifelong member of West End House, Irwin worked as a Fitness Peer Leader for Live in Motion for three years, serving as a role model by cultivating a supportive, engaging environment for young people of all ages and skill levels. As a Peer Leader, Irwin has learned the importance of building strong relationships with youth. "These kids look up to me," he says. "As a Peer Leader, I've learned how to be patient, and how to be a leader." Irwin recently shifted his Peer Leadership role to West End House's in‑house kitchen, which serves nearly 300 homemade meals daily. Now he works directly with Senior Director of Fitness and Nutrition Lisa Smith, providing critical support to ensure that daily kitchen operations run smoothly. Under Lisa's mentorship, he is also building a long‑term post-secondary education and career plan to pursue a career in the culinary arts.
Consider this: One-third of the children and youth in Lawrence MA, live in poverty. Nearly half are overweight or obese. Everyone agrees that it will take a concerted effort on multiple, overlapping fronts to realize long-term improvement in the lives of these kids and their families.
Lawrence, MA, 25 miles north of Boston, is also home to two New Balance Athletics, Inc.'s facilities that employ approximately 800 associates. New Balance Foundation is invested in our community, funding a variety of local organizations. Among them, the Boys & Girls Club of Lawrence has been at the forefront of youth development. It is the largest provider of after-school programming in the area, with an annual membership of more than 4,000 children and youth. Every day, approximately 500 kids take part in its programs.
Our significant investments at the Boys & Girls Club of Lawrence promote healthy lifestyles, athletics and academic excellence. Our aim is to provide the critical support needed to build healthy and successful futures for some of the poorest children in Massachusetts.
One way we do this is through New Balance Foundation Healthy Living Club, launched in 2007 to champion healthy lifestyle choices through hands-on nutrition education, organized physical fitness activities and one-on-one mentoring from staff. Designed to help tackle the community's high rates of obesity, 100 children and youth participate in a monitored daily fitness component and eight weeks of nutrition education and food preparation lessons. "Educating kids in nutrition is vital," explains Executive Director, Markus Fischer, "because they've probably never received education in this area." After all, he adds, when you are worried about where the next meal is coming from, you don't care so much about what you're eating.
In addition to its core support, New Balance Foundation endowed a scholarship in perpetuity to fund the tuition of a deserving member from the Boys & Girls Club of Lawrence for the full four years at Central Catholic High School. A New Balance Foundation Scholar is named every four years. "If there's one thing that's
a game changer for our kids, it's a good education.
Markus Fischer, Executive Director,
Boys & Girls Club of Lawrence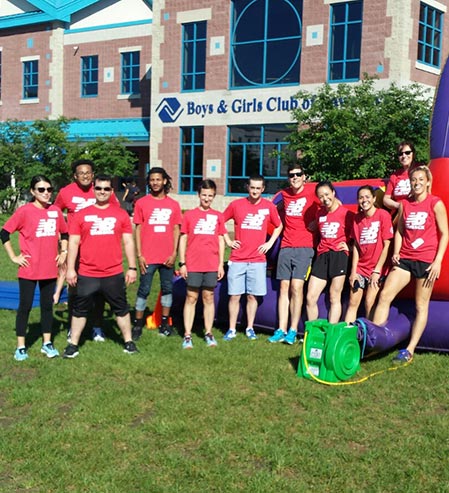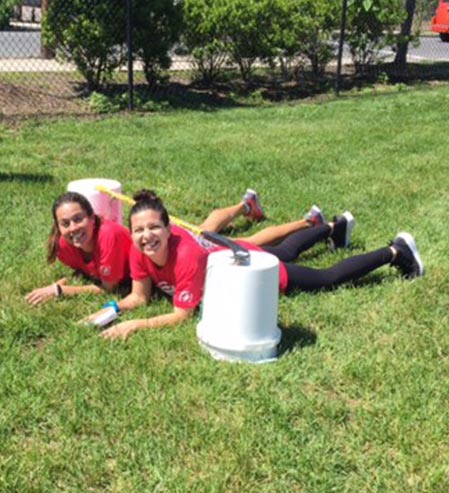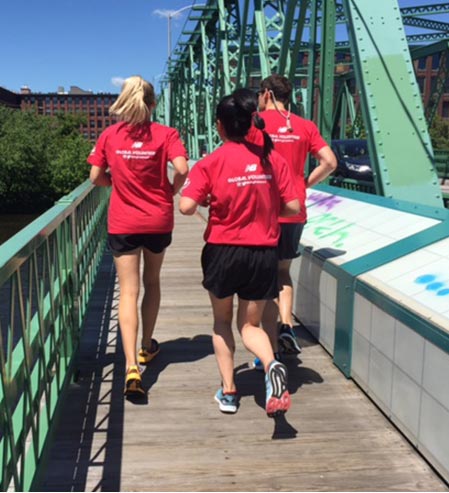 Academic success is also a primary focus for the club. Its Academic Basketball Program, a signature sponsorship of New Balance Foundation since 2003, has been instrumental in helping kids succeed. "We want to help our kids graduate from high school and go on to college or find a career path that allows them to be self-sufficient," explains Fischer. Not too many years ago, he notes, the local school system was in disarray, prompting the state to step in to turn it around. At that time, only about 40 percent of local kids graduated from high school. Today the rate has climbed to 72 percent. The Boys & Girls Club of Lawrence, however, scores a high school graduation rate of 95 percent.
The program combines its members' passion for sport with a structure that keeps kids focused on school, teaming time on the court with daily study sessions, satisfactory school performance and a good dose of tenacity on the part of the 150 kids who participate each year.
Healthy lifestyles, athletics, and academic excellence. At the New Balance Foundation, we think the Boys & Girls Club of Lawrence is delivering a winning three-pointer.
My name is Zuleydy, and I am a 16-year-old junior at Central Catholic High School. My mom recently died from a stroke, and it was just a very tough loss. It was so unexpected. My mom was my soul, my hero and my happiness. Now that she's gone, the only thing that is left for me to honor and remember her is make her proud, go to college and earn my degree just as she wanted me to do. This past quarter, I earned all As and earned Distinguished Honors. At Central, I am a part of the Hispanic Heritage Club, the Student Alumni Association and Girls' Varsity Basketball team. Aside from CCHS activities, I am also a member of the Keystone Club
at the Boys & Girls Club
of Lawrence.
Zuleydy,
Central Catholic High School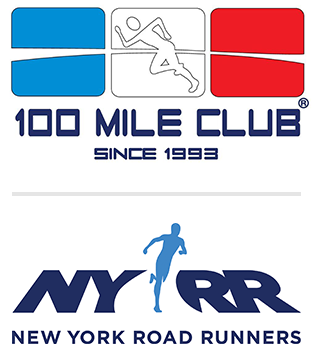 We believe kids are made to move, and we know that active kids do better – better in the classroom, better attendance, better health and fitness. That's why, since 2013, New Balance Foundation has been supporting the most democratic of sports by funding large-scale, national, youth running initiatives.
New Balance Foundation has made significant contributions to 100 Mile Club, an award-winning, school-based program that challenges students to run, jog or walk 100 miles over the course of a school year. Schools are a great place for boosting children's activity levels, and grants supporting programs like 100 Mile Club help counteract the decrease in recess and physical education time plaguing many school districts. The inspiration behind the New Balance Foundation Billion Mile Race, 100 Mile Club was founded by a fourth generation public school special education teacher to meet the needs of her own students; she continues to lead the organization today.
New Balance Foundation's significant contributions to 100 Mile Club have helped propel this grassroots organization to new heights. Built on simplicity, scalability and accessibility to all fitness and ability levels, 100 Mile Clubs serves schools across all 50 U.S. states and has been adopted in several other countries. It boasts a long track record of working with schools to find the best way to implement the program while allowing children to develop a sustainable set of skills, confidence, and motivation to be healthy and active for life. Tens of thousands of students actively participate in 100 Mile Club each year, for which New Balance Foundation proudly serves as a lead supporter.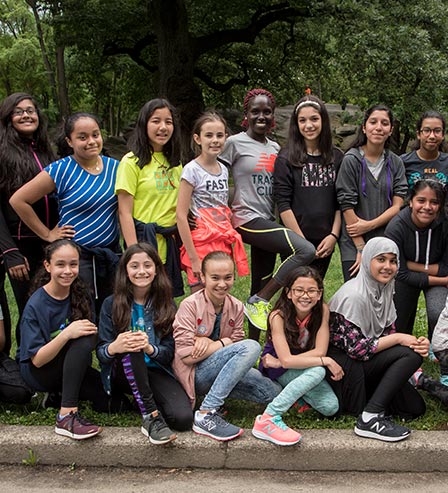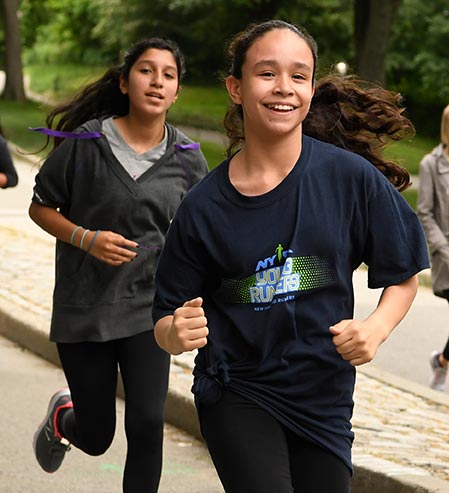 Visit NYRR Website
More recently we began funding Rising New York Road Runners, the national youth program of the New York Road Runners, organizer of the TCS New York City Marathon.
Rising New York Road Runners is designed to improve a child's physical literacy by teaching fundamental movement skills in order to build the confidence in those skills and drive a desire to be physically active for life. Offering free youth running programs since 1999, Rising New York Road Runners serves more than 267,000 youth in more than 1,300 schools and community centers in New York and across the United States. The free program targets underserved children in pre-kindergarten through grade 12, providing a customizable bank of more than 400 activities that make it easy for teachers and coaches to plan lessons. New York Road Runners partnered with Tufts University in the spring of 2017 to pilot the curriculum, including pre- and post-participation tests to measure skill development among kids. It hopes to continue this research as the program rolls out.
New Balance Foundation knows that childhood obesity is a complex problem demanding multifaceted approaches. Still, sometimes the solution requires us to simply take a cue from the hundreds of thousands of children and youth who participate in programs like 100 Mile Club and Rising New York Road Runners, and start by putting one foot in front of the other.
"New Balance Foundation has been
integral to our thinking about and building of Rising
New York Road Runners. They have been great
supporters to help move our plans forward."
Rachel Pratt, Senior Vice President, Youth
& Community Services, New York Road Runners
Per Mass Dept of Elementary and Secondary Education
Per the 2013 study by The Center For Labor Market Studies at Northeastern University

© New Balance Athletics, Inc.
All rights reserved.