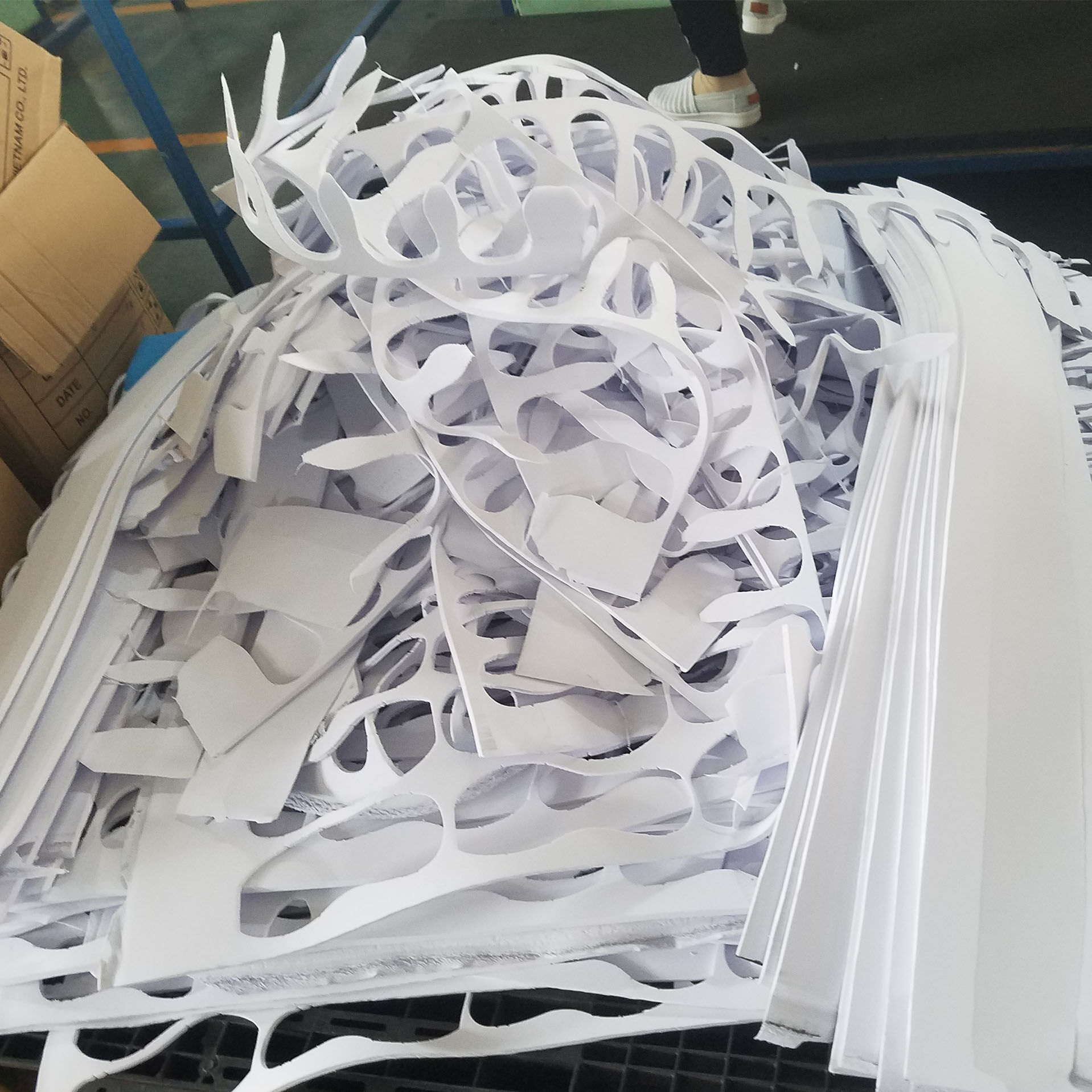 Waste
We are challenging ourselves to break free from consumption cycles that end at the landfill. We're developing products that last longer, repurposing factory waste into useful materials and finding new ways to recycle your New Balance gear when you're done with it.
Making footwear can generate a tremendous amount of waste, often in locations without sophisticated waste management infrastructure. We've set a goal to achieve zero waste to landfill from all our Tier 1 footwear factories by 2025. This is a massive effort that mandates change across the entire product creation process to reduce waste at the source and find ways to turn unavoidable waste into new materials.
We are working with factory teams to clarify definitions and create a systematic way of measuring and tracking waste at the factory level. We track data today but inconsistencies between regions make it difficult to compile an accurate global metric or compare one region against another.
All our Tier 1 factories track and report waste monthly. It is difficult data to verify and not always accurate. Today, we have some factories reporting 92% diversion from landfill while others are as low as 9%. Even in cases of high diversion, there is still a heavy reliance on waste to energy (WTE).
Our plan is to reach zero waste to landfill by 2025, relying on at least 30% WTE in some regions. We will then further reduce WTE reliance, ultimately capping it at 10%.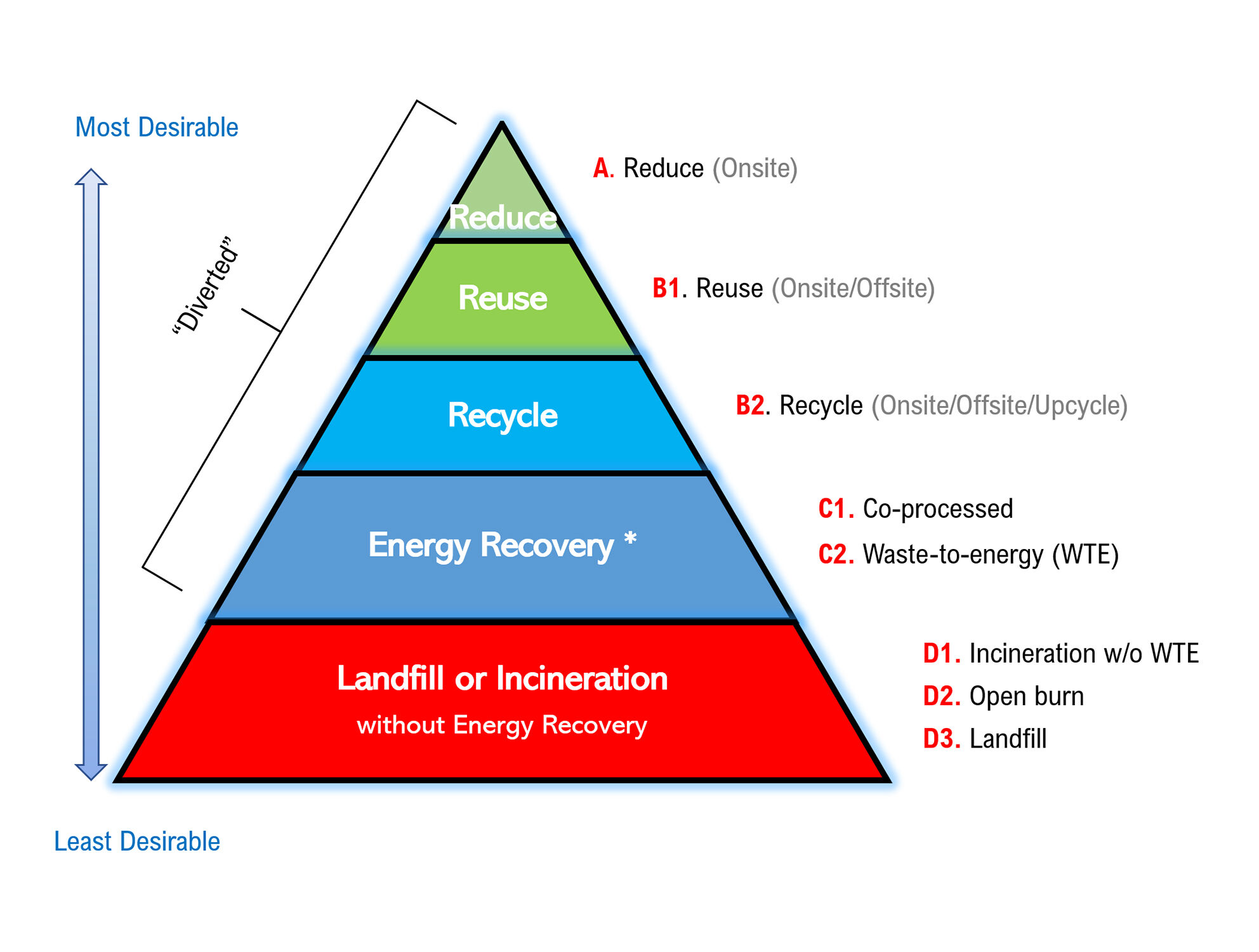 Our top materials still being landfilled are leather, textiles, polyurethane/synthetics and foams.
At our U.S. factories, leather scrap is our largest waste stream still being landfilled – roughly 12 tons per month. We are currently working on multiple pilot programs to find a vendor that can recycle those scraps into a new material. This closed loop solution would take a huge step toward zero waste to landfill for our U.S. factories and would potentially provide a lower-emissions closed-loop material to consider for use in products.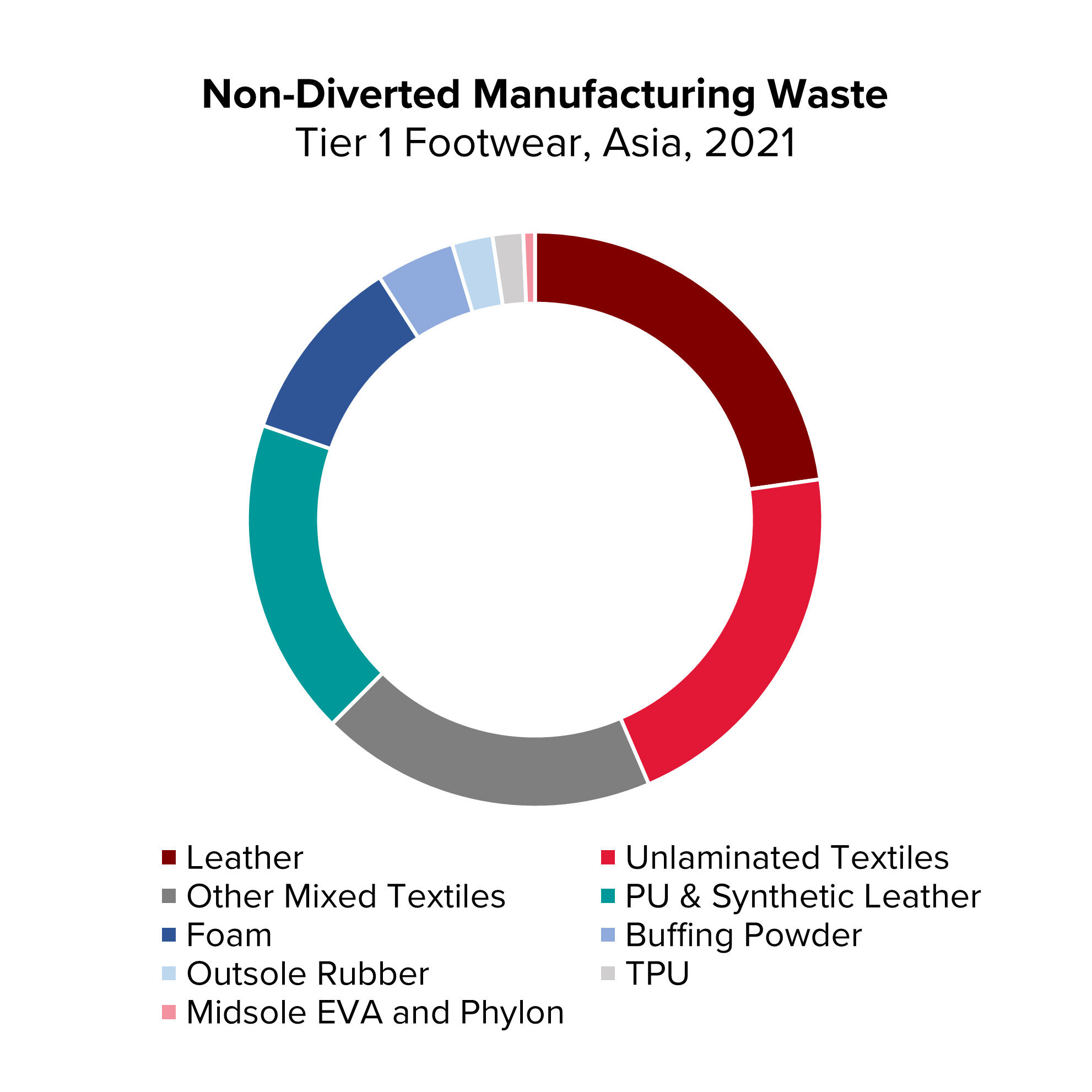 Our designers are re-thinking how to design product in a way that creates less waste from the start.
In 2021, we developed a visualization tool that indicates waste at the model level. This allows designers to see where waste is being created in a particular shoe model, set goals and make informed decisions.
When a new design is evaluated, the tool will produce a visual that indicates waste across several factors, as shown below. Key metrics include part count (indicated by the number of cells), weight of upper part materials (indicated by the top wedge area of the circle), weight of cutting scrap waste (indicated by the bottom wedge area), and a comparison against the category average (indicated by the white circle). From a waste perspective, we generally want to see [a] smaller diameter circles that indicate less overall material needed to make a shoe, [b] smaller bottom wedge area indicating less cutting waste, and [c] fewer cells as a proxy for less complexity and fewer parts, which can also drive less energy consumption during the assembly phase at the Tier 1 factory. Teams can see decent results by targeting the top one or two "offender" parts first. Altering just one part can have a big impact.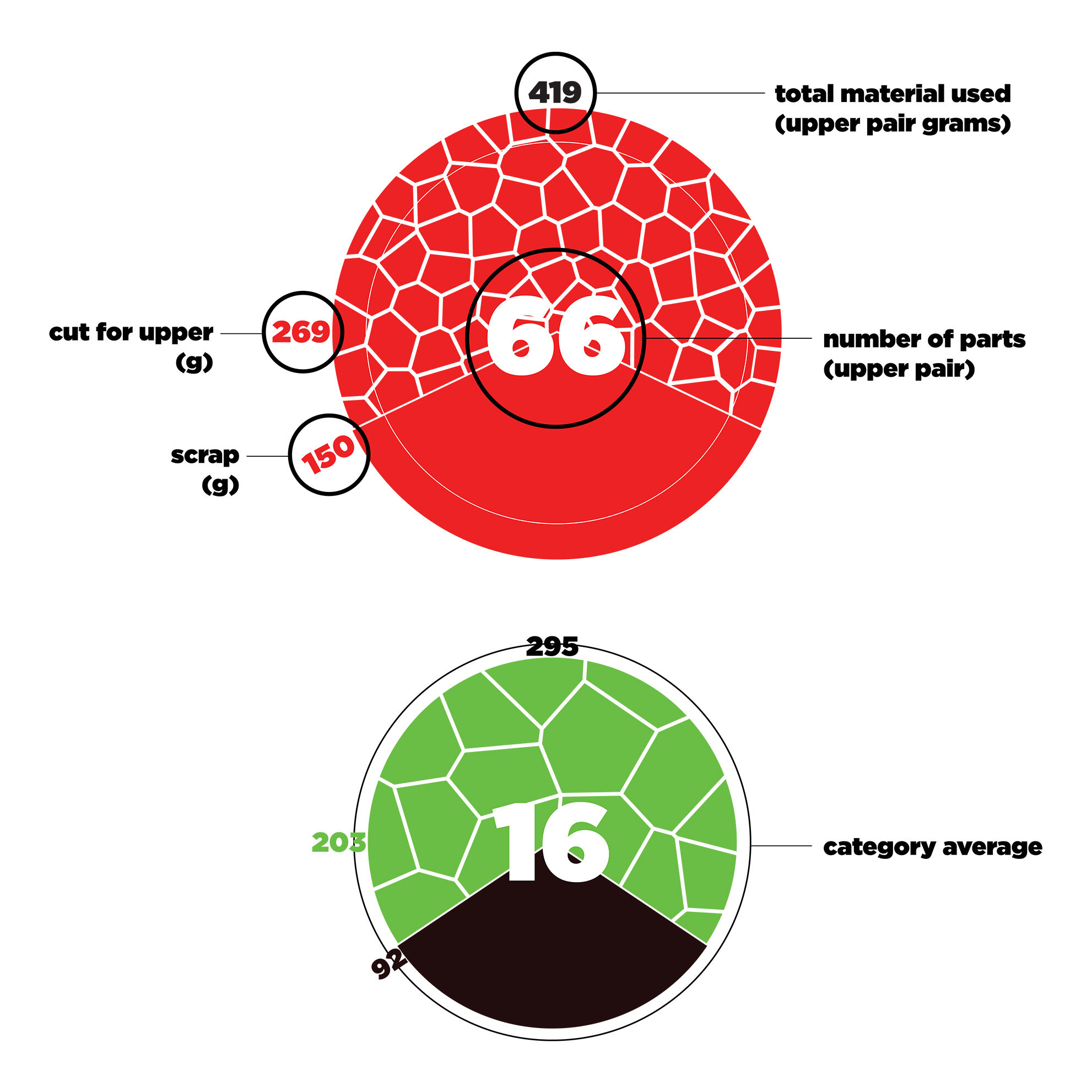 Our Innovation and Operations teams are identifying high waste production processes and introducing new technologies and manufacturing techniques that generate less waste. The midsole on one of our most popular models has traditionally been made by die cutting sheets of Ethylene-Vinyl Acetate (EVA), a rubber-like synthetic material. This process can generate a high percentage of offcut waste – as high as 52% when we studied it closer. In 2021, we introduced a new method to make the same component through a process called direct molded phylon (DMP), which significantly reduces the amount of waste – to as low as 15% in our observations. DMP is more energy intensive per kg of material, but the overall carbon footprint is lower because of the material efficiency gains. We are now working with suppliers to transition capabilities from die cut to DMP, starting with some of our largest suppliers.
Together with The Renewal Workshop, we piloted an apparel repair program from August to December 2021 and educated New Balance apparel designers to intentionally design for repairability and garment recycling from the start. This pilot was part of our target to launch a program to collect used and/or damaged footwear or apparel for repair and resale by 2021. In 2022, we began building from that pilot experience to define future aspirations and launch a larger recommerce program for apparel and footwear.
Every year, New Balance Japan extends the life of approximately 3,500 of our Made model shoes by replacing soles and repairing other components like torn collar linings. We are working to expand this program globally in the coming years.
Many New Balance stores take back gently worn shoes from our customers, donating usable items to local organizations within their community. In the U.S., these programs are in place at more than 60% of our licensed stores.
Taking good care of your shoes helps them last longer and keeps you logging miles. New Balance has partnered with SneakersER to offer Sneaker Laundry inside our Oxford Street store in London. For at-home care, find our recommended tips here.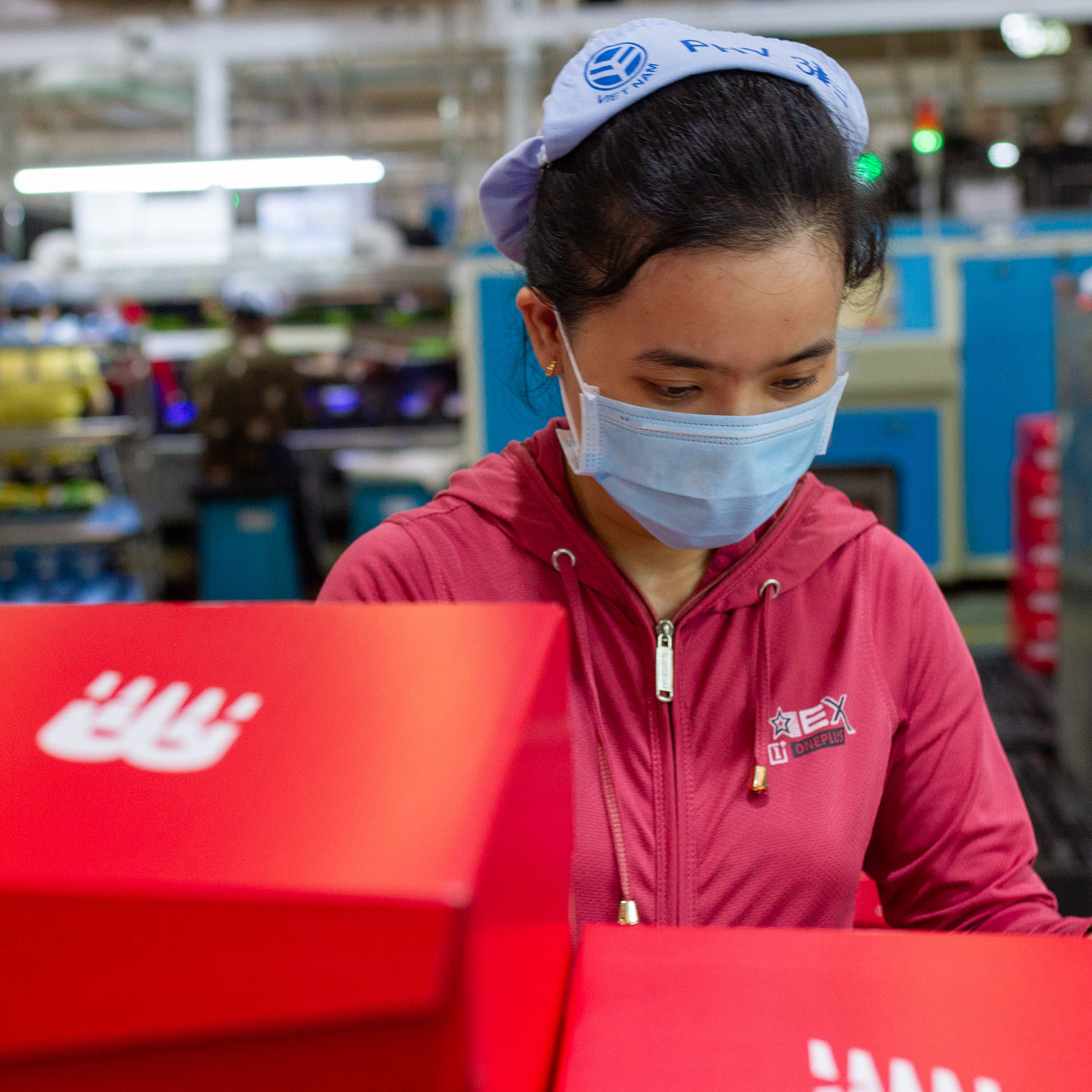 Sustainable Packaging
Our two primary concerns with packaging are eliminating single use plastic and ensuring responsible paper sourcing.
Plastic: Our plastic packaging consists of apparel polybags and plastic shipping mailers used for small apparel-only orders. We are experimenting with plastic-free alternatives to determine if we can eliminate all plastic packaging. Trials are underway to evaluate performance and gather operational feedback from our distribution centers, retail staff, factory operations teams and product teams. One of our apparel suppliers in Asia is using the alternative package for all sales samples being shipped in April 2022, and we will evaluate scaling plans based on that experience and subsequent testing.
Paper: Most of our packaging is paper-based. Each year, we use millions of shoe boxes, sheets of tissue paper and master shipping cartons. Our first priority is to reduce the amount of paper needed and maximize recycled content. Starting in 2018, for example, we reduced the weight of our wrapping tissue from 28 grams per square meter (gsm) to 22 gsm, and we are evaluating the quality implications if we reduce the number of sheets used or eliminate it altogether. Our core shoe boxes consist of a one-piece design that is 90% recycled content, and all inks are soy based.
After reductions and maximizing recycled content, we then look to increase forest certifications for any remaining virgin paper content. Most of our shopping bags in the U.S. and Europe are Forest Stewardship Council (FSC) certified or the Programme for the Endorsement of Forest Certification (PEFC) certified, and shipping cartons used in our own U.S. distribution centers are Sustainable Forest Initiative (SFI) certified.