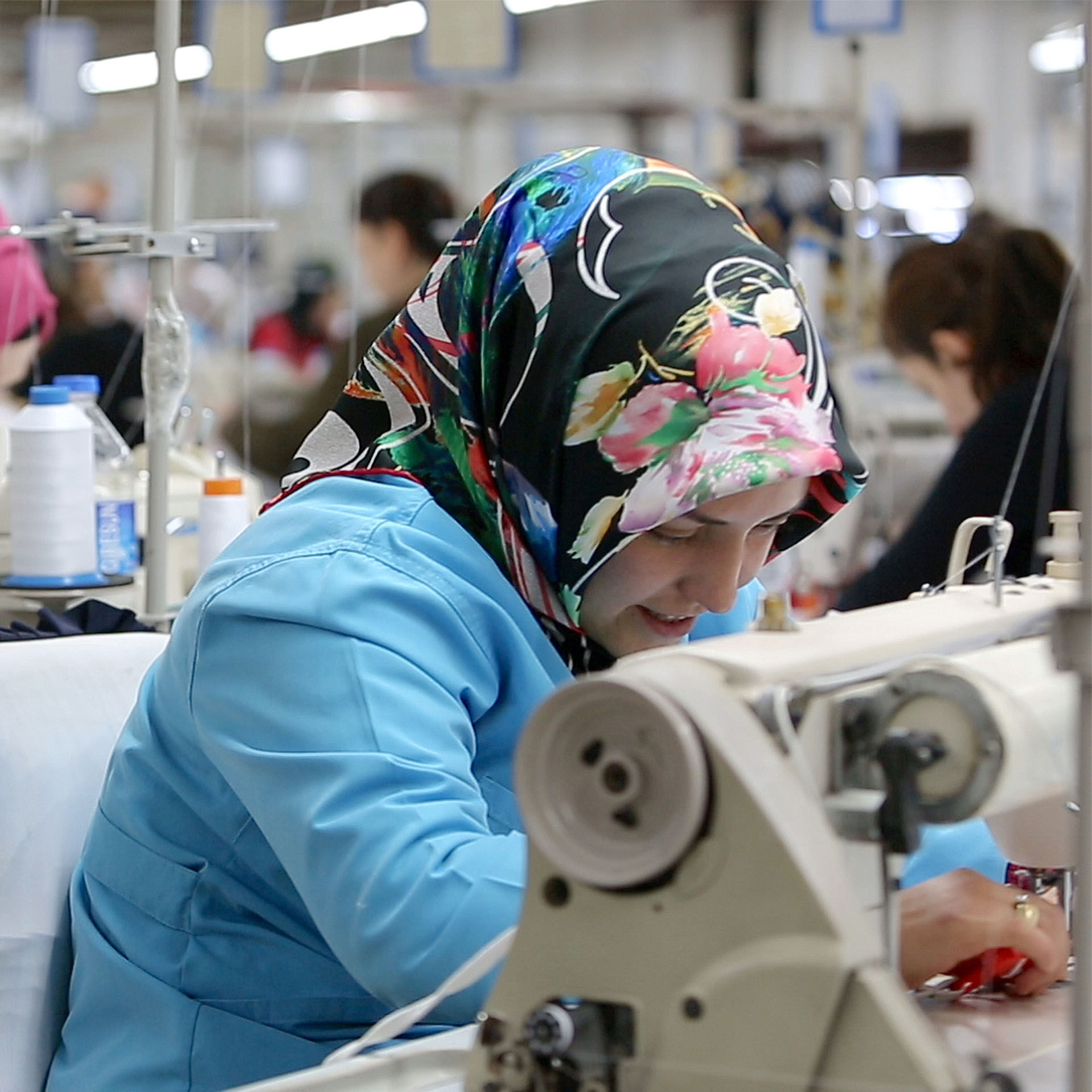 Supply Chain Social Responsibility
We are committed to doing business with manufacturers and suppliers who share our values of respecting the people who make our products and protecting our world. Developing long-term partnerships with suppliers who are committed to developing and implementing labor and environmental best practices is essential to our business.
As of 2021, we worked with approximately 150 finished good (Tier 1) suppliers across 24 countries producing footwear, apparel and sporting equipment. We have been sourcing from nearly half of these suppliers for five years or more. We actively manage our Tier 1 supplier list on the Open Apparel Registry.
Our Tier 2 supplier list includes all strategic material suppliers for footwear and apparel, covering approximately 60% of our material purchases, including textile mills and leather suppliers. The list also includes footwear processing subcontractors and major footwear component suppliers. Approximately 120 of our Tier 2 suppliers are included in this list.
More than 25 licensees produce apparel, accessories and other specialty products in approximately 200 factories across the world. We require licensees to ensure that the factories with which they contract also abide by our Code of Conduct and meet the same minimum standards as our contract suppliers.
The Policies and Downloads page contains our Tier 1, Tier 2 and licensee supplier lists.
Our continued success relies not only on the quality of our supply chain partners, but also on our ability to manage social and environmental risks in our supply chain by focusing on:
Standards
Suppliers must abide by our Supplier Code of Conduct, which defines labor, workplace safety and environmental impact requirements. The Code is based on international laws such as the Universal Declaration on Human Rights and the International Labor Organization's (ILO) Core Conventions, as well as national and local laws. It is available in more than 40 languages and must be posted in supplier factories in the language(s) of the employees.
Our Supplier Standards Manual provides suppliers with detailed guidance on how to implement each element of the Code. This Manual is updated regularly to align with evolving international standards.
FLA Accreditation
We have been an accredited member of the Fair Labor Association (FLA) since 2014. The FLA is a collaborative effort of universities, civil society organizations and businesses promoting and protecting workers' rights. In October 2018, the FLA re-accredited our Global Compliance program based on our proven adherence to the FLA's Workplace Code of Conduct and Principles of Fair Labor and Responsible Sourcing. Read more in the New Balance Reaccreditation Report.
The FLA annually assesses a sample of members' suppliers to ensure members are implementing the FLA Workplace Code of Conduct. Learn more in the assessments of New Balance suppliers.
Audit Process
Before placing production orders, we require new suppliers to pass a social and environmental compliance audit. We aim for approved or existing Tier 1 (finished product) suppliers to undergo a compliance audit at least once per year.
Either our Compliance team or third-party auditors conduct the audits, which may be announced or semi-announced. In exceptional cases, audits are fully unannounced.
Audits usually begin with a document review followed by a physical inspection of the factory. The inspection includes interviews about working conditions with a representative sample of workers covering all the functional areas and operations at the factory.
Suppliers must score at least two stars to pass an audit; this level indicates that they meet our minimum compliance standards. Suppliers scoring three stars and above are demonstrating progressive levels of good industry practices. Suppliers that do not pass an audit must implement a Corrective Action Plan (CAP) and, at minimum, undergo a follow-up audit to demonstrate progress.
Zero Tolerance Issues
We define 24 noncompliance issues as "zero tolerance" or serious issues that jeopardize the life, health or safety of employees or compromise fundamental rights. These include, among others, child labor, locked or blocked exits, absent or malfunctioning fire alarms, workers required to pay fees during their hiring or recruitment process, illegal disposal of hazardous waste and falsification of records.
Any zero tolerance finding results in an automatic audit failure and requires immediate remediation. Production may be put on hold until the issue is resolved. We will not approve a new supplier for production until, at a minimum, the supplier resolves all zero tolerance issues and has passed a follow-up audit.
Corrective Action Plans
Following the audit and depending on the severity of the findings, we work with suppliers to develop and manage a CAP to address any noncompliances identified. Suppliers that perform well in our audit, without any zero tolerance or high-risk issues, manage their own CAP.
We encourage suppliers to prioritize areas that will have the greatest positive impact on workers and the environment. We also ask suppliers to identify the root cause of problems and implement systems, policies and procedures that will not only fix issues but prevent them from recurring. When needed, we provide training and refer suppliers to external technical resources. In our experience, suppliers that implement proactive management systems around good health and safety, environmental and human resources practices exhibit much more consistent compliance performance over time.
New Balance also partners with Better Work to proactively improve working conditions throughout our supply chain. Better Work is a joint program of the UN's International Labour Organization (ILO) and The World Bank's International Finance Corporation (IFC), bringing together all levels of the global garment industry to improve working conditions and respect labor rights for workers, while boosting the competitiveness of apparel businesses.
Exiting Suppliers
We strive to invest in long-term relationships with suppliers who share our values. When suppliers fall short of our standards, our team works with them to remediate issues and improve workplace practices. A majority of our suppliers are able to address issues quickly and show significant improvement in high-priority areas. However, we can and do occasionally end our business relationships due to serious or persistent compliance violations. In 2021, we did not end the business relationship with any supplier for compliance reasons.
When the relationship ends, our Global Compliance team works with the supplier as our business winds down to ensure the process is carried out responsibly per our internal Responsible Exit policy.
2021 Supplier Performance
In 2021, we either conducted or reviewed third-party assessments for 85% of our Tier 1 suppliers. Nearly 65% of 2021 audits were conducted by independent third parties, including assessments conducted by Better Work, the Fair Labor Association and through the Social and Labor Convergence Program. Our Compliance team conducted the remaining assessments. Due to COVID-19 restrictions, a small number of 2021 audits were conducted virtually. While in-person audits are preferred, we found that virtual audits still provide valuable insight and can be an appropriate tool in some situations.
Approximately 90% of our audited Tier 1 suppliers scored at least a two-star audit rating. Of the 9% of audits (13 suppliers) with failing results, 11 had zero tolerance findings. Seven of the failed suppliers were new suppliers. As of Q1 2022, all of the failed suppliers have successfully remediated the high-risk issues to come into passing status, with the exception of one supplier that is awaiting re-audit.
We found that the three most frequent noncompliance issues involved:
Working Hours: Findings included issues such as employees working more than 60 hours per week, not getting one day of rest in seven or working beyond local legal limits. Meeting working hours standards remains a persistent and widespread challenge throughout our industry. To read more about how we work with suppliers to manage overtime, see Responsible Purchasing Practices.
Fire Safety: Unfortunately, we still find basic compliance issues in some factories, such as the lack of clear markings for emergency exits or the lack of functional fire extinguishers. Such issues may result from recent changes in a factory's layout for production reasons or poor maintenance or housekeeping.
Machine and Electrical Safety: Audits revealed that some machines were not properly guarded, some special equipment operators lacked required permits or electrical safety measures were not implemented. We share best practices with suppliers and monitor remediation through follow-up audits to ensure proper and safe working conditions at supplier locations.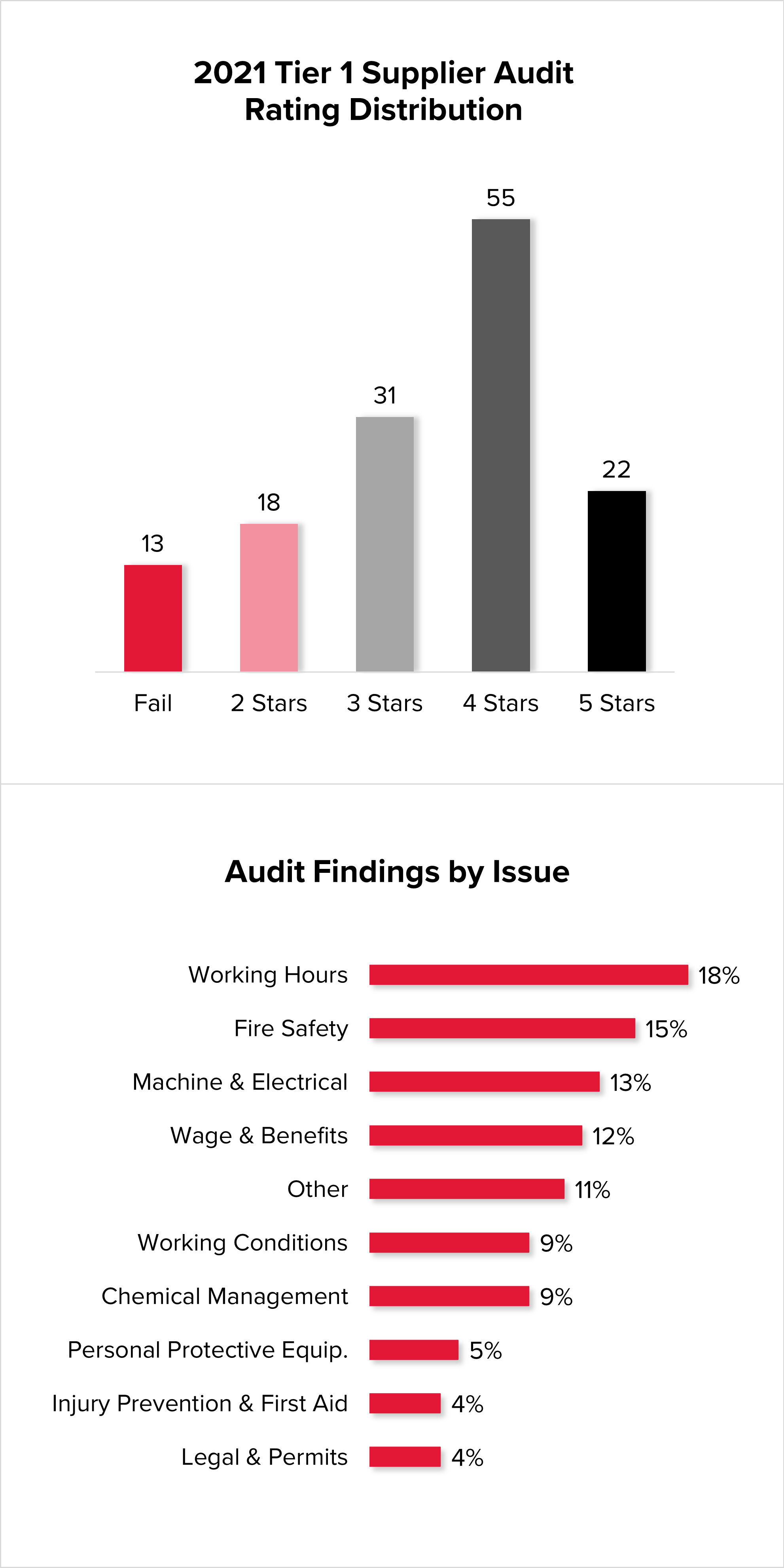 Sustainable Apparel Coalition (SAC) Higg Index
We are proud to be a founding member of the Sustainable Apparel Coalition (SAC), a global multi-stakeholder nonprofit alliance working to reduce the social and environmental impact of the consumer goods value chain. A key aspect of this work is focused on the Higg Index, a suite of tools to standardize the measurement of impacts across our industry.
Our contributions include playing an active role in developing and testing the Higg Index. We have also implemented the available tools internally and within our supply chain. Most recently, we have been exploring how to use life cycle data within the Higg Materials Sustainability Index. We continue to use the Higg Brand and Retail Module for internal planning and benchmarking purposes. In 2021, 42% (61) of our Tier 1 suppliers implemented the Higg Facility Environmental Module (Higg FEM), including 70% of our strategic suppliers representing 87% of our business volume. In addition, 21% (134) of our Tier 2 apparel and footwear suppliers implemented Higg FEM, representing 62% of those classified as strategic or core suppliers.
We recognize that no supplier is perfect. That's why our long-term goal is to support an environment of continuous learning and improvement in our supply chain.
Our Global Compliance team regularly hosts supplier workshops to provide training and guidance on how to address critical issues facing our industry. Training may be virtual or in person and includes topics such as responsible recruitment, forced labor and fire safety. In 2021, our team provided training to more than 90 suppliers and vendors. Part of this training included audit skills training so suppliers can develop their own internal audit programs. In 2021, staff from 10 suppliers participated in third-party auditor training, and 21 individual supplier participants achieved SA8000 certification for socially responsible workplace practices.
In addition to the training and guidance we provide suppliers, we also encourage suppliers to talk and learn from each other. We host supplier-led workshops at least three times a year on key industry issues.
Supply chains for footwear and apparel include not just manufacturers of finished products — Tier 1 suppliers with which New Balance and other brands contract directly — but also many other types of suppliers further upstream, from raw material suppliers (e.g., leather, rubber, cotton) to subcontractors that specialize in certain processes (e.g., screen printing, lamination) to component suppliers (e.g., zippers, laces, trims). We recognize that human rights concerns and negative environmental impacts are often more prevalent in the upstream supply chain where we have no direct contractual business relationships and often less visibility.
Our due diligence approach Beyond Tier 1 uses a risk-based process guided by the Organization for Economic Cooperation and Development (OECD) Due Diligence Guidance for Responsible Supply Chains in the Garment and Footwear Sector. It starts with mapping our Tier 1 and Tier 2 supply chain and using a social and environmental risk assessment process to identify key raw materials for further upstream mapping. We work with over 600 nominated Tier 2 material and component suppliers in over 20 countries and have started mapping beyond Tier 2 for key raw material commodities, including leather and cotton. See Policies & Downloads for a list of our strategic Tier 2 material suppliers.
We deliberately created an upstream approach that focuses on areas where we see the most salient risks and can have the greatest impact. Our focus to date has been working with Tier 2 suppliers on forced labor, hazardous chemicals and water management in our greatest volume material sourcing regions of China, Indonesia, Taiwan (ROC) and Vietnam. Because we have less leverage the further upstream we go, we also rely more on industry initiatives and collaboration to drive impact.
Along with two other athletic footwear brands, we participated in a rubber mapping project in Vietnam co-led by the Fair Labor Association and the International Organization for Migration. A report on the project, published in 2021, outlines an industry collaboration approach to upstream mapping — from the footwear factory to the rubber plantation. As we continue to advance our upstream due diligence, we are working with industry stakeholders to better understand upstream supply chain tools, technologies and approaches.
Our Beyond Tier 1 approach also includes monitoring the social and environmental performance of our footwear subcontractors. These subcontractors conduct specialized processes that Tier 1 factories may not have the capacity or capability to do in-house, such as heat embossing, laminating and high-frequency welding. We worked closely with our Tier 1 suppliers to monitor their performance and remediate issues. In 2021, we audited 60% of our Tier 2 footwear subcontractors conducting main processes and considered highest risk based on process or volume. In 2021, 10% of footwear subcontractor audits (5 of 48) found zero tolerance issues. These included noncompliance issues related to waste management, drinking water, chemical and fire safety and minimum wage.